The BitScope Raspberry Pi Oscilloscope
BitScope Mixed Signal Oscilloscopes and Analyzers are now fully compatible with Raspberry Pi.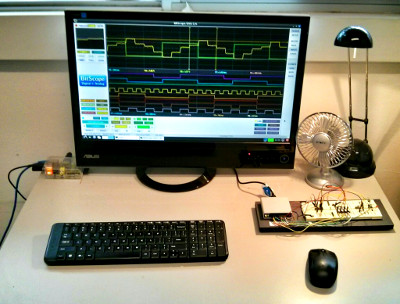 Connect any BitScope via USB or Ethernet with Raspberry Pi to build a complete stand-alone mixed signal oscilloscope, logic analyzer, spectrum analyzer and waveform generator.
Tiny, just like Pi
A perfect companion for Raspberry Pi is BitScope 10 or the new BitScope Micro. These tiny BitScopes are USB powered (by Raspberry Pi) and can be used with BitScope DSO or any other supported BitScope software all of which can run directly on the Pi.
Very Low Power
Like the Pi itself, these BitScopes are very low power. Unlike a lot of other gear, this means you don't need a USB hub. Simply connect directly to the Raspberry Pi, add a monitor and mouse, and you're good to go.
Programmable Test, Measurement & Data Acquisition
Regardless of which BitScope you choose, the new BitScope Library is also available making it easy to create your own embedded test, measurement or data acquisition applications using BitScope and Raspberry Pi. Program in C/C++, Python or Pascal using an easy to use programming API. Here is a simple C waveform capture example and another in python that reports on BitScope capabilities. High speed mixed signal data acquisition is now a reality on Raspberry Pi.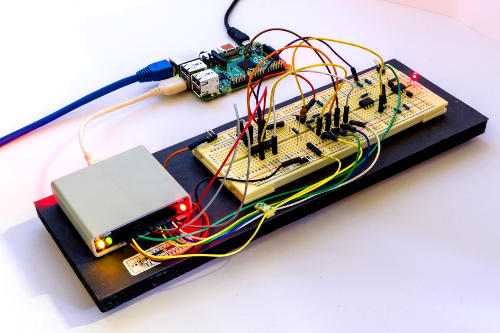 Networked Access
Of course Raspberry Pi works as a very capable little network server and this can be used very effectively with any model BitScope but it's ideal for low power USB connected models including BS10 and BitScope Micro.
You can access BitScope remotely via X or VNC or run BitScope Server and access it directly from any PC or Mac running BitScope Software.
It's even possible to run your own software or third party applications built with BitScope Library this way.
All that's needed is a 5V USB power source and network connection, even WiFi can be used. Whether you run the software directly on Raspberry Pi using a local monitor and keyboard, remotely via X or VNC or using the server, software operation is fast and efficient for such a low power computer because BitScope has been optimized specifically for Raspberry Pi.
Learn More about BitScope on Raspberry Pi
The response to this page as been huge, so we've set up the Raspberry Blog for news and updates for all things BitScope on Raspberry Pi. BitScope already works well with Raspberry Pi already but we've got a lot more planned!
Related Posts
| | | |
| --- | --- | --- |
| | BitScope Micro (New Product) for Raspberry Pi! | Apr 11 |
| | BitScope Workshop at OzBerryPi | Apr 8 |
| | BitScope Library V2 API Guide Published | Mar 21 |
| | Optimizing real-time waveform display for Raspberry Pi | Mar 17 |
| | Volume purchase discounts now available online! | Mar 11 |
| | BitScope Documentation Updated Online | Mar 05 |
| | BitScope DSO Version 2.6 Production Release | Mar 03 |
| | Low cost networked data acquisition with Raspberry Pi. | Dec 17 |
| | BitScope Server, shared remote access for any BitScope! | Dec 15 |
| | BitScope DSO updated for Server Compatibility | Dec 14 |
| | Collaborative Solutions, Online & Interactive Education. | Dec 09 |
| | Powerhouse ThinkSpace Digital Learning | Dec 04 |
| | The Sydney Mini Maker Faire Review. | Nov 28 |
| | BitScope Ed at the Sydney Mini Maker Faire! | Nov 20 |
| | BitScope Library V2.0 and Proto Scope Application | Nov 15 |
| | BitScope DSO, Logic, Chart, Meter and Library updated | Nov 12 |
| | Automated Waveform Analysis with Raspberry Pi | Nov 09 |
| | Reducing Quantization Noise with BitScope | Nov 08 |
| | Breadboard One, the 4 Bit Up/Down Counter | Nov 07 |
| | BitScope Software upgraded for Mac OS X Mavericks | Nov 06 |
| | Using a USB BitScope with any Linux system. | Nov 05 |
| | BitScope DSO upgraded for Mac OS X Mavericks. | Nov 03 |
| | Sydney BitScope, Online Demo Updated. | Oct 30 |
| | BitScope Touch Screen User Interface | Oct 28 |
| | Network access for USB BitScopes via Raspberry Pi. | Oct 24 |
| | BitScope is virtually indestructible, just as we intended! | Oct 23 |
| | BitScope Ed at OzBerryPi, Presentation Review. | Oct 21 |
| | BitScope and friends at OzBerryPi Maker Space | Oct 20 |
| | Vertical Offsets and Dual Channel Display | Oct 19 |
| | How to Install BitScope DSO on Raspberry Pi | Oct 18 |
| | Breadboard One, a typical Mixed Signal Circuit. | Oct 17 |
| | Electronic Projects Lab for Raspberry Pi | Oct 17 |
| | Dual Channel Active Differential Probe (New Product). | Oct 15 |
| | BitScope Smart POD. The clever connection. | Oct 12 |
| | BitScope Ed, an Educational Blog about Electronics. | Oct 09 |
| | Why the oscilloscope update rate is important. | Oct 06 |
| | Visualizing sound with Sonic Pi and BitScope | Oct 05 |
| | BitScope Software Blog Launched | Oct 04 |
| | Differential measurements matter, here's why... | Oct 01 |
| | How to Install Raspbian and BitScope on Raspberry Pi | Sep 29 |
| | High speed data acquisition with Raspberry Pi | Sep 25 |
| | BitScope Software for Raspberry Pi Oscilloscope | Sep 27 |
| | BitScope DSO 2.7 update (for Raspberry Pi only) | Sep 24 |
| | BitScope Raspberry Pi Oscilloscope | Sep 20 |
| | | More... |