BitScope Blade for Raspberry Pi 3
London: Monday 7th March, 2016. For Immediate Release.
BitScope Designs Announces Immediate Support for Raspberry Pi 3
At the launch of the new Raspberry Pi Model 3 (RPi3) in London, BitScope Designs and element14 demonstrated BitScope Blade physical computing and IoT solutions for the new Raspberry Pi.
Taking advantage of the powerful wireless capabilities of RPi3, BitScope demonstrated physical computing systems comprising RPi3, BitScope Blade and BitScope Micro with waveforms captured and transmitted wirelessly in real-time, for display on visitors' phones and mobile devices.
Bruce Tulloch, Chief Executive Officer of BitScope Designs said, "Raspberry Pi 3 is the most compelling IoT platform I've seen, with its built-in BLE and WiFi connectivity and 64-bit quad core CPU. Combined with BitScope Blade it offers comprehensive end-to-end industrial solutions for physical computing from devices at the cloud edge to the core of the cloud itself."
BitScope Blade offers industrial grade physical computing and IoT solutions ranging from a single Raspberry Pi and optional HAT, up to large multi-core cloud servers and compute clusters comprising 40 x Raspberry Pi 3 (160 x 64 bit cores) in a single rack.
When combined with BitScope mixed signal test, measurement and data acquisition, and the growing range of Raspberry Pi accessories such as Sense HAT and PiFace Digital, BitScope Blade offers the most comprehensive solutions for robust industrial deployment of Raspberry Pi 3.
BitScope products are available from element14 and associated resellers or BitScope Direct.
Raspberry Pi and related accessories are available via element14 globally.
For further information please Contact:
Bruce Tulloch, CEO BitScope Designs, bruce@bitscope.com
Martin Fogarty, Business Development, +61 2 9436 2955, martin@bitscope.com
---
Raspberry Pi 3 is the most recent edition of the popular Raspberry Pi single board computer.
BitScope Blade products include Uno Pi, Duo Pi and Quattro Pi blade boards for powering and mounting one, two or four Raspberry Pi versions 1, 2 or 3. Multiple Blades can be mounted in clusters and racks to create large computing solutions. BitScope Blade was launched in December 2015.
BitScope Micro is also an eight channel logic analyser, waveform generator, clock generator and spectrum analyser all packaged in one low cost lightweight water resistant test probe. BitScope Micro was launched with element14 in October 2014.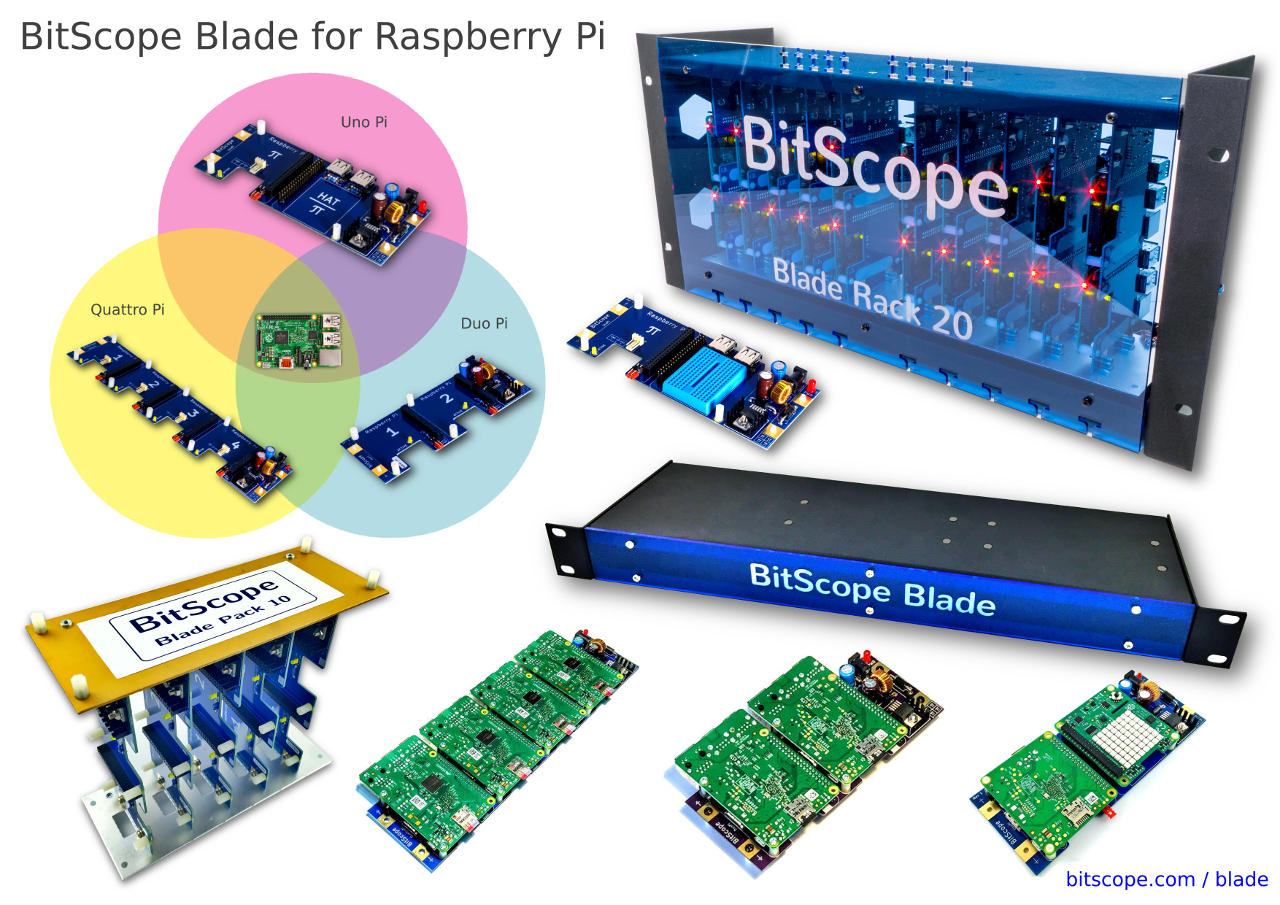 FB29N 02