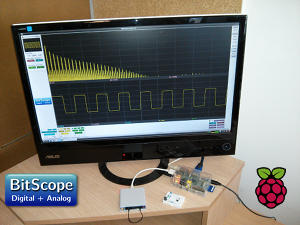 BitScope is now compatible with Raspberry Pi.
Connect any current model BitScope via USB or Ethernet with a Raspberry Pi to build a stand-alone mixed signal oscilloscope with built-in logic analyzer, spectrum analyzer and waveform generator.
Our pick for Raspberry Pi is BS10. Like the Pi itself this tiny BitScope is very low power which means you don't need a USB hub. Simply connect directly to the Raspberry Pi, add a monitor and mouse, and you're good to go!
We've ported BitScope DSO and BitScope Library software to Pi and others will be made available soon (and some as betas now if you're keen).
There's lots more for BitScope on Raspberry Pi coming soon, especially if you're into programming your own automated test, measurement or data acquisition on the Raspberry Pi.
Stay tuned and feel free to contact us anytime if you have any questions.