2013-10-30
Sydney BitScope, Online Demo Updated.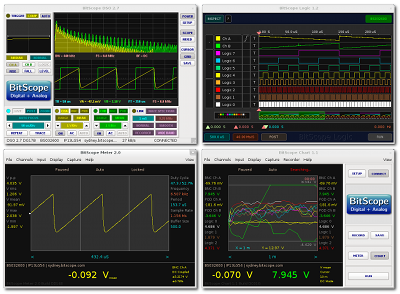 We have always supported remote access and device sharing with network BitScope models such as BS325 and BS445 and we've had an older model (BS300N) quietly running 24x7 for some years in the R&D lab to demonstrate these capabilities.
By simply downloading BitScope software and running it on an Internet connected PC, anyone can connect with this publicly accessible BitScope to try out the software without needing to own their own BitScope.
Recently, this demo has become rather more popular than we expected, so we've made a few changes.
First, we upgraded the BitScope itself to a current model BS325. This is faster than the older one and can demonstrate some of the more advanced features now available such as analog prescalers, input offset controls, larger capture buffers and more flexible sampling, among many others new features. It also means software apps including Logic, Meter and Chart can also be shared remotely (in addition to BitScope DSO).
The other change is the Internet address of the demo BitScope. It's now connected via a higher bandwidth network so it can accommodate more concurrent users than was previously possible. It's now known as sydney.bitscope.com and it can be accessed via a new IP address (59.167.160.187). If you try to use older versions of the software you will need to enter this host name or IP address first.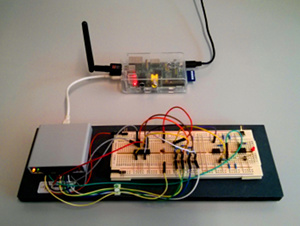 New BitScope Networking Options
Built-in network access is one of BitScope's core capabilities and the demo provides an example of what's possible out of the box with the network models. However, we plan to release a range of new networking solutions to provide additional remote shared access options for other BitScopes including USB powered ones like BS10.
For example, BS10 made available on a network using Raspberry Pi can be used to build a stand-alone wireless edition of our electronics lab, shareable between students and teachers in a classroom setting across multiple devices (more on this in a forthcoming blog), or client/server networking solutions for remote access and cloud hosted test, measurement and data acquisition systems.
We will have more information on these new solutions soon. They're all based on the networking and other capabilities (such as Act On Touch) built into the existing BitScope Software (including the BitScope Library) so they can be used without requiring any changes to the way the BitScope software applications already function.