BitScope Touch Screen User Interface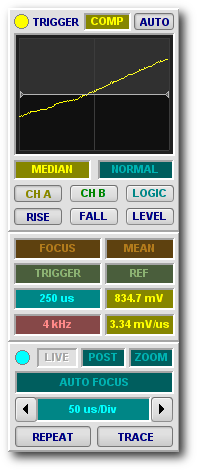 BitScope DSO uses a gesture based user interface we call Act On Touch.
Act On Touch makes using a mouse, track-pad or touch-screen with BitScope easy. Whether you use a PC, Mac or notebook, a touch-screen PC tablet running Windows 8 or even access a remote BitScope from an iPad or phone via VNC, BitScope DSO responds the same way.
Act On Touch simply means you can click, drag or select to adjust almost any DSO parameter to change its value in real-time as the display updates or select built-in functions or values related to the parameter via a pop-up menu.
Shown here are three UI panels that use Act On Touch.
Dynamic Trigger Control (top)
Cursor Measurement Control (middle)
Zoom Timebase Control (bottom)
Click and drag up and down or left and right on a parameter to adjust its value. Click on the left or right edge of a parameter to select its previous or next value. Right-click (or control-click on a Mac or press-and-hold on a tablet) to pop up a context menu and double-click to open an editor to type in a value or select a default value. We call these UI interractions Act On Touch Gestures.
They apply to trigger, preview and waveform displays too; objects on the display can be clicked and/or dragged to change location or value.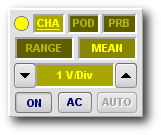 For example, the trigger level can be adjusted by moving the trigger cursor and measurement cursors or waveform feature bands on the main display can be moved to make measurements.
Act On Touch also means DSO is more compact and informative because each parameter can report a value and accept user input to change that value without unecessary scroll bars or other UI widgets.
The channel control panel shown here provides a good example; using this panel you can choose the source and signal coupling, adjust voltage scaling, input range, probe scaling and signal offsets and perform channel calibration, all using simple Act On Touch Gestures on the parameter widgets.
Act On Touch Gestures
Up to seven single-touch Act On Touch Gestures are suppored for each parameter:
| | | | |
| --- | --- | --- | --- |
| NAME | GESTURE | WHERE | DESCRIPTION |
| Click | Click | Center | Perform primary parameter action. |
| Select | Double-Click | Anywhere | Perform secondary parameter action. |
| Choose | Menu-Click | Anywhere | Pop-up a context menu for the parameter. |
| More | Click | Right Side | Choose the next (or higher) value. |
| Less | Click | Left Side | Choose the previous (or lower) value. |
| Change X | Click-Drag | Left/Right | Adjust a parameter value continuously (X-axis). |
| Change Y | Click-Drag | Up/Down | Adjust a parameter value continuously (Y-axis). |
Not all parameters respond to all gestures and some respond in different ways. Some gestures apply to non-parameters (e.g. pop-up menus on buttons or lights) and multi-touch gestures apply to other objects such as waveforms and displays. The best way to appreciate how this all works is to see it in action: