2014-03-05
BitScope Documentation Updated Online.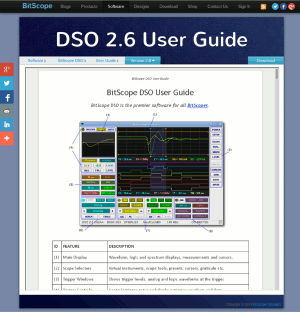 Accompanying the BitScope DSO V2.6 production release we've started migrating to a new documentation publication system.
Our aim is to make documentation available in a continuous and accessible way so you can read it online, download it or print it for reading later. The first example is the official BitScope DSO User Guide. We plan to release all our user guides, API and technical specification documents this way soon. We hope you like it.
At the top right of each document page you will find a Download menu or button from where you can grab a PDF version for offline reading or printing. Some documents also allow printing or saving to other formats such as Word and our documentation download page still has the list of PDF copies for convenient download as well.
For those who are interested, we're making use of Google Docs for this and following our website upgrade late late last year we're now able to embed it all directly so you can bookmark or follow updates for the documents you're interest in. Of course you can also click any of the social media buttons on the left to share the document with collegues and friends.
Coming up later this month are user guides for Logic, Chart and Meter as well as new Library API. Some older documents have been removed and updated replacements are coming soon. Stay tuned and feel free to contact us anytime if you have any questions or suggestions about documentation.