2014-03-11
Volume purchase discounts now available online.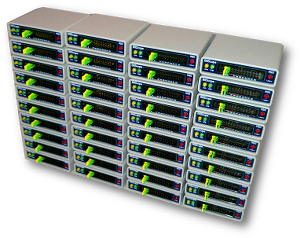 BS10U has become our most popular model with schools, clubs and universities. We have always offered discounts for volume and group orders but until recently these discounts were available via institutional purchase or for resale only.
By popular request, we've now integrated our retail discount list pricing into the online store so you can place a bulk order or combine one order with some friends to access all available discounts.
If you are fitting out a lab or setting up an electronics or robotics club they can make quite a difference. For most models, discounts start for orders of two or more units. The only requirement is that we can despatch it as one consignment to one address in the name of one person, company or institution direct from our factory.
We've applied these discounts to everything we sell but for BS10U we've gone a step further to offer 4-pack and 8-pack options which saves more on shipping because we can ship them in the carrier's discount packs.
Our aim is to make BitScope as low cost and readily accessible as possible, especially for students. Discount orders have the same inclusions and come with the same suite of powerful software at no extra cost. You can also create a discount proforma invoice online for your purchasing department with access to the best prices available for orders of up to 20 units. If you require more than 20 or would like to resell BitScope please contact us for a custom quote.
Related Posts
| | | |
| --- | --- | --- |
| | Build a powerful mixed signal workstation with one simple 3D print ! | Sep 3 |
| | Raspberry Pi Zero W, a wireless wonder for only $10 ! | Feb 28 |
| | Raspberry Pi 3 Launch and BitScope Blade | Feb 29 |
| | Physical Computing with Raspberry Pi and BitScope! | Dec 03 |
| | BitScope, Ozberry & Pimoroni at Sydney Mini Maker Faire! | Aug 12 |
| | BitScope Blade for Raspberry Pi at Hannover Maker Faire! | Jun 05 |
| | Getting Started with BitScope | May 08 |
| | Electronic Measurement with BitScope & Raspberry Pi | Nov 12 |
| | MagPi talks Raspberry Pi B+, HATs & BitScope. | Aug 04 |
| | Raspberry Pi B+ BitScope x 4 = 8 analog + 32 logic ! | Aug 01 |
| | BitScope Model 10 or BitScope Micro? | Apr 25 |
| | BitScope Micro, what's in the box? | Apr 17 |
| | BitScope Micro Questions & Answers | Apr 12 |
| | BitScope Micro (New Product) for Raspberry Pi! | Apr 11 |
| | BitScope Workshop at OzBerryPi | Apr 8 |
| | Low cost networked data acquisition with Raspberry Pi. | Dec 17 |
| | BitScope Server, shared remote access for any BitScope! | Dec 15 |
| | BitScope DSO updated for Server Compatibility | Dec 14 |
| | Collaborative Solutions, Online & Interactive Education. | Dec 09 |
| | Powerhouse ThinkSpace Digital Learning | Dec 04 |
| | The Sydney Mini Maker Faire Review. | Nov 28 |
| | Breadboard One, the 4 Bit Up/Down Counter | Nov 07 |
| | Using a USB BitScope with any Linux system. | Nov 05 |
| | Sydney BitScope, Online Demo Updated. | Oct 30 |
| | BitScope Touch Screen User Interface | Oct 28 |
| | BitScope is virtually indestructible, just as we intended! | Oct 23 |
| | BitScope Ed at OzBerryPi, Presentation Review. | Oct 21 |
| | Vertical Offsets and Dual Channel Display | Oct 19 |
| | How to Install BitScope DSO on Raspberry Pi | Oct 18 |
| | Breadboard One, a typical Mixed Signal Circuit. | Oct 17 |
| | Dual Channel Active Differential Probe (New Product). | Oct 15 |
| | BitScope Smart Port. The clever connection. | Oct 12 |
| | BitScope Ed, an Educational Blog about Electronics. | Oct 09 |
| | Why the oscilloscope update rate is important. | Oct 06 |
| | BitScope Software Blog Launched | Oct 04 |
| | Differential measurements matter, here's why... | Oct 01 |
| | BitScope Website Upgrade and Blog Launch | Sep 29 |
| | BitScope Software for Raspberry Pi Oscilloscope | Sep 27 |
| BitScope | BitScope DSO Tutorial Examples | Sep 09 |