BitScope, Blade and Raspberry Pi at the Sydney Mini Maker Faire!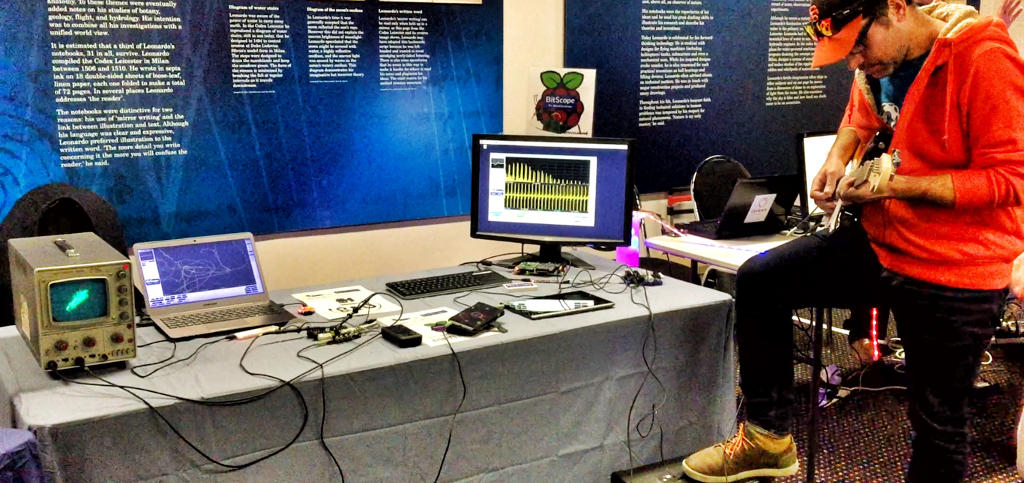 We had a ball exhibiting BitScope Mini, BitScope Micro, BitScope Blade and full range of accessories at the recent Sydney Mini Maker Faire held at the MAAS Powerhouse Museum in Sydney last weekend.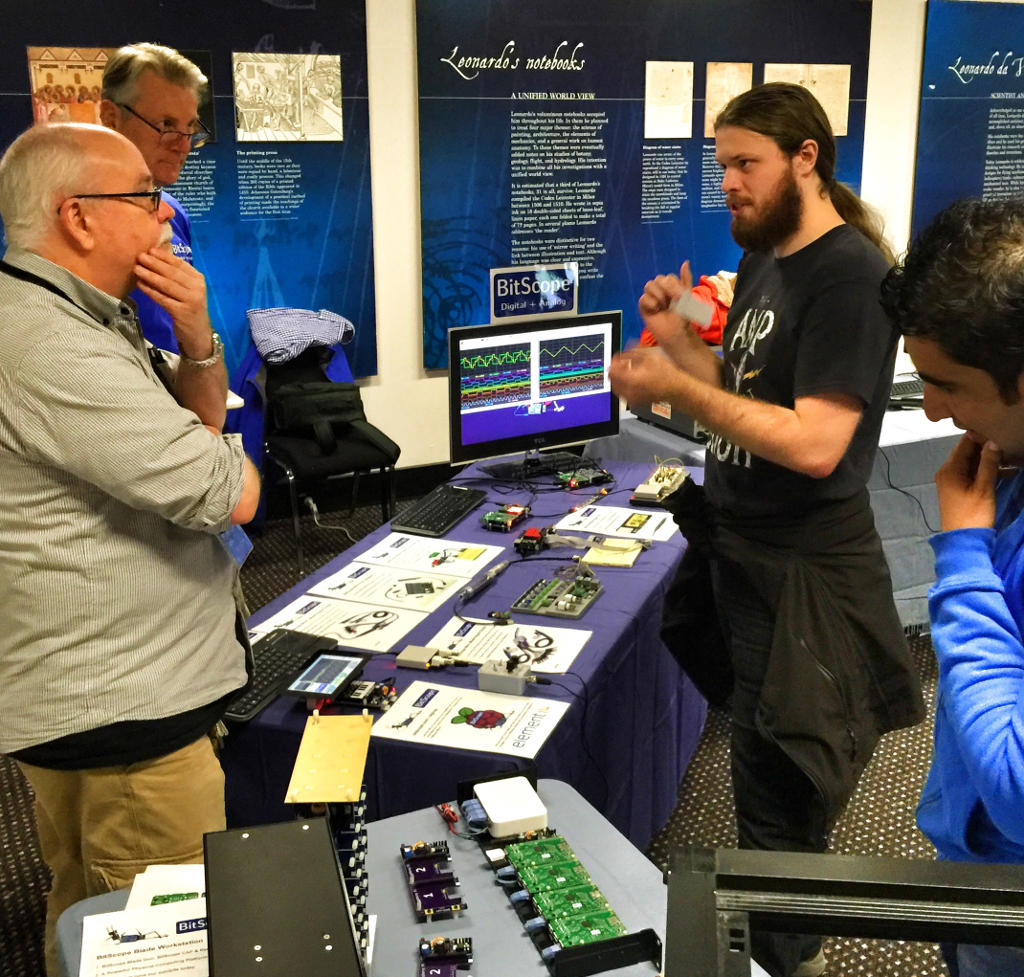 Engaging Visitors
During the course of the faire we were visited by makers, students, children and their parents, teachers and engineers.
We were impressed with how engaged visitors were with many expressing a keen interest in how electronics and computing can be used together to solve problems.
BitScope Workstations
We used Raspberry Pi 3 to demonstrate BitScopes in various configuration as well as part of the Blade exhibits themselves.
Every exhibit except one ran on a Blade Workstation, our low cost platform built with Blade Uno, a Raspberry Pi 3 and in many cases a Raspberry Pi HAT. The diminutive and low cost Raspberry Pi proved yet again that it can provide some very impressive performance for just $ 35!
Of course, the Blade exhibits we built with Raspberry Pi, in one case with 20 of them connected in a network in a compact 5U rack and performing a variety of number crunching tasks rendering image files with Blender.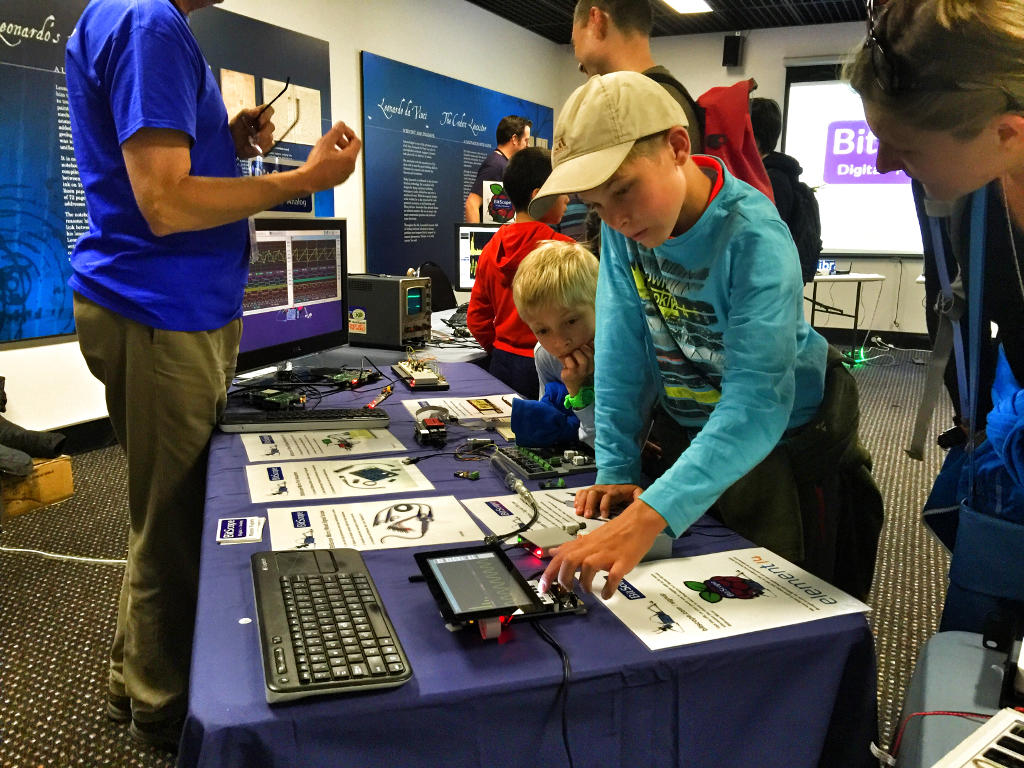 Learning by Doing
We're firm advocates of project and enquiry based learning, especially in science, technology, engineering and mathematical fields.
We set up hands-on exhibits with BitScope Micro and Mini connected to electronic circuits built on breadboards and custom educational boards. We showed how one can use BitScope to understand how electronics works in practice and how changes to a circuit can have sometimes unintended consequences.
We used Raspberry Pi HATs including Pimoroni's Explorer HAT and Piano HAT to connect control signals from Raspberry Pi with BitScope and allow visitors to "play piano" on a Raspberry Pi while watching the waveforms on a Raspberry Pi Display.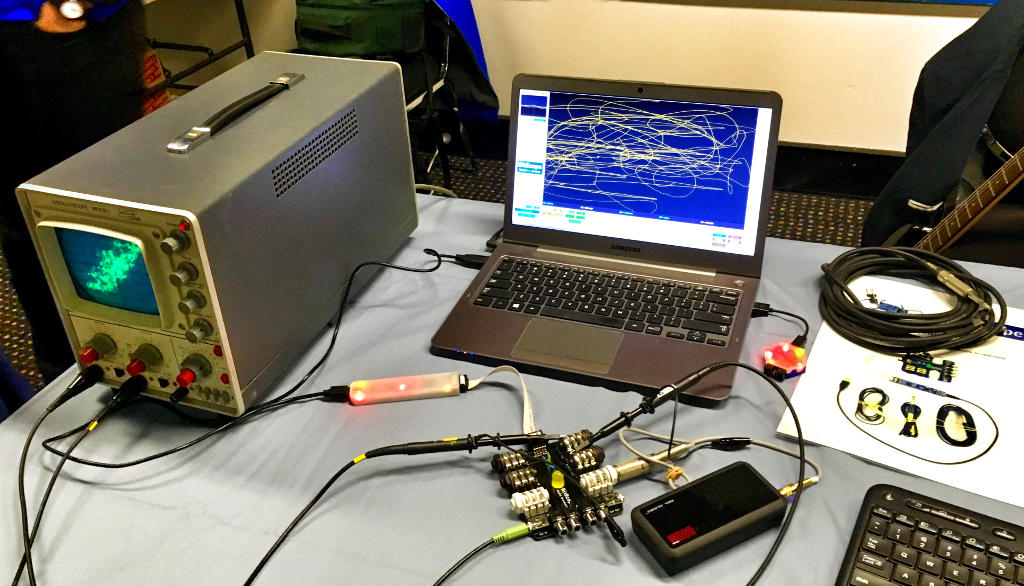 What's that Sound?
Speaking of sounds, we love music so we created examples to show what music looks like when analyzed with a BitScope.
With a guitar for visitors to pick up and play we set up an ancient (41 year old!) BWD 539B oscilloscope next to a BitScope Micro and notebook and had them both display the waveforms on screen.
Using the new BitScope Audio Port for BitScope Micro and oscilloscope probes connecting to the BWD the music from visitors phones was connected to both scopes and the guitar played along side them to show how waveform shape determines the timbre, amplitude the loudness and period the pitch of the sounds as they played.
Since the music was in stereo we could even demonstrate vectorscope mode and plot the channels against each other to observe the phase. All this in real-time using a tiny BitScope Micro and a not so tiny old school oscilloscope!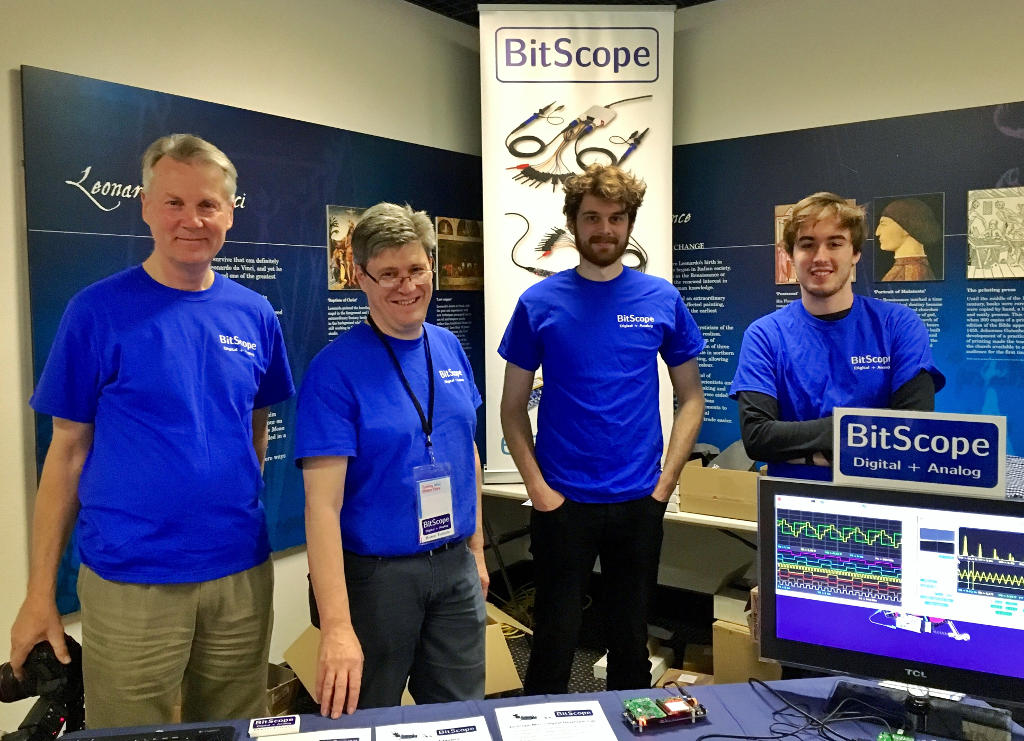 The Maker Faire Team
Martin, Bruce, Patrick, Andrej and Norman from BitScope Designs all joined the stand.
It was a fascinating experience for us all and we learned a lot about where makers and those interested in creative pursuits in electronics and computing are working.
We were able to exhibit all our current range of products including BitScope Micro, BitScope Mini and their various probe adapters and accessories as well as BitScope Blade, Blade Packs and Blade Racks with multiple Raspberry Pi.
We exhibited new products in development and soon to be released. We'll announce full details soon but they include BitScope Cap, breadboard, audio and other adapters for BitScope Micro as well as prototyping platforms, Blade Workstations and Industrial computing systems all built with Blade and Raspberry Pi.
Our thanks to our friends at element14 too for helping with materials and offering three Raspberry Pi Starter Kits to match three BitScope Micro which we're giving away to three lucky visitors to our stand, draw next week!
GE24B 01