The first BitScope was built around a Microchip 16F628 PIC which implemented the original BitScope Virtual Machine. The VM operated together with a Lattice LSI 1032 PLD which implemented the high speed dual stream mixed signal capture engine.
Data was recorded to two 32k x 8 bit SRAM buffers.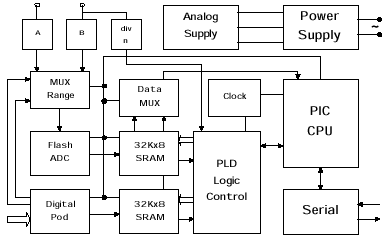 One stream recorded high speed analog data provided by the 8 bit A/D convertor.
The other recorded the 8 logic channels acquired from the digital POD.
The captured analog and digital data was then uploaded to a host computer for analysis and display.
In addition to its data capture functions, this BitScope had a frequency counter that ranged from a Hz to GHz, and an interval and period timer that can time periods from nanoseconds to years (if you had the time :-). It BitScope also had sophisticated programmable triggers on both the analog and digital inputs.
All modern BitScope models released since then work in much the same way. They differ only in terms of their specifications; e.g. number of channels, capture buffer sizes, sample rates etc. Some add new features such as waveform generation or spectrum analysis but if you understand how this original works you know how all of them work.