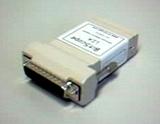 All Network BitScopes employ similar innovative technology first pioneered in the original BitScope Network Adaptor; a self contained add-on module powered by the BitScope to which it is connected.
The adaptor was housed in a DB25 to RJ45 connector shell that a that plugged directly into a BS200 or BS300 series BitScope serial interface.
The hardware comprised a PIC 16F876 and RealTek RTL8019AS 10BaseT ethernet chip with associated circuitry all mounted on a small surface mount PCB designed to clip into the shell.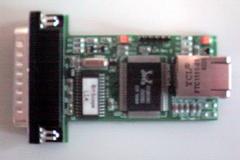 The PIC implemented most of the functionality of the adaptor including the UDP/IP protocol stack, data handling and buffering, high speed serial interface with BitScope and RealTek ethernet chip control.
The RealTek chip and YCL FTC1111-01 filtered RJ45 socket form the 10BaseT ethernet interface.
The network adaptor was designed to work with the BS220 series VM-220 and VM-300 VM chips enabling support for burst communications speeds of up to 1.25Mb/s and queued commands (for efficient operation over ethernet).
The schematic below shows the adaptor circuit diagram (click on it to see a larger image).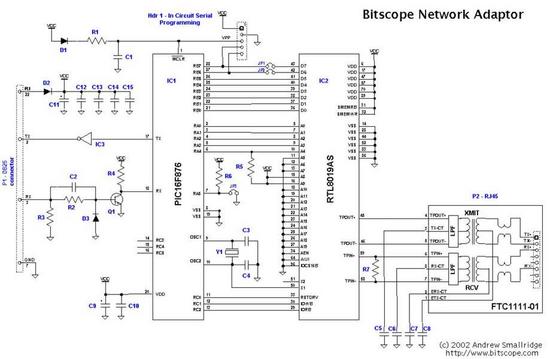 All current model Network BitScope's are built using similar designs except that now the network interface is integrated into the BitScope itself and no intermediate serial interface is required.