2009-11-10
DSO 2.2 is the latest BitScope DSO release and the first to offer unified cross-platform operation.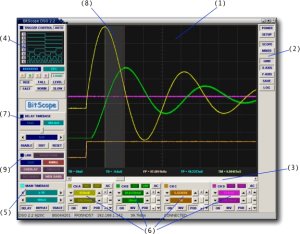 Available now for Windows 7, Vista and XP or Linux (debian or rpm based distributions or as a tarball for manual installation).
DSO 2.2 is compatible with all current and most older BitScopes (way back to BS300 originally released in 2003) and is available as a freely downloadable upgrade.
It unifies DSO operation regardless of the BitScope model connected. For example the waveform generator control works the same for BS100U+DWG100 and BS325.
We've fixed many of the bugs you told us about and we've added some requested enhancements (probe support, user input calibration, new phosphor modes) but DSO continues to work similarly to earlier versions (back to DSO 1.3) so there's nothing new to learn to make full use of it.
There is of course a new online guide fully updated for the new features of DSO 2.2 and we've split future releases into two streams so early adopters can enjoy the latest developments.
2009-10-01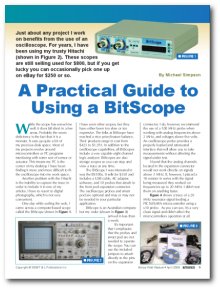 Nuts &amp Volts, the premier magazine for the electronics hobbyist, recently published a hands-on guide to using a USB BitScope Mini including several practical test cases.
In this comprehensive but readable guide, author Michael Simpson walks through the main features of BitScope and then applies this knowledge to show how to use a BS100U to solve a number of interesting real world problems.
Learn why mixed signal capture is so important in many design, development and diagnostic situations.
As Michael explains by example, BS100U combines a digital scope and logic analyzer in a single test instrument making it an ideal tool to debug mixed signal devices such as an IR Remote and an SPI A/D converter.
See how to use the large capture buffers to zoom in and view long bit streams or analyze serial protocols in detail.
Learn about the advanced delay timebase to see very high speed signals regardless of far behind the trigger they are.
We recommend this guide as good introduction to some of the main features of BS100U. You can download a print ready PDF copy via Nuts & Volts Online here (note: it's big, about 18MB).
2009-09-07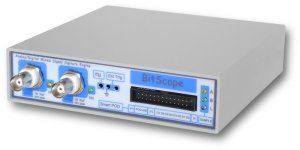 Introducing BitScope Model 325, the newest member of the BitScope family.
BS325 is a classic design high performance PC based Mixed Signal Oscilloscope that builds on the success of its popular predecessor.
New features include huge capture buffers, built-in record/replay waveform generator, external trigger input and probe calibration, full electrical isolation and simultaneous waveform capture on all 10 channels (2 analog + 8 logic).
BS325 also deploys a new software controlled integrated mixed signal capture engine.
While supporting all the features of earlier models, this new engine design extends the core BitScope architecture to allow full speed dual channel analog capture, 10 channel mixed signal capture, waveform synthesis with dual channel analog capture and even logic pattern generation.
Superb analog performance is assured by employing independent multi-range analog front end electronics and analog prescalers all housed in a solid low profile aluminum case with full electrical isolation from the PC for accurate measurement and exceptional noise immunity.