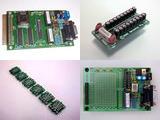 We've received many requests for tools to help design PIC and other MCU based circuits.
PICuP is the name we've given to our range of boards and modules designed for this purpose. So far we have four designs available:
Most work as add-ons or modules suitable for use with BitScope or as stand-alone tools for PIC circuit designers.
As with BitScope itself, the designs for these modules are (or will be) published here including schematics, parts lists and example source code where relevant, so you can build you own.
We have also added a new PICuP category to our online store where you can purchase complete kits, modules or PCBs. Browse the following pages to read an overview of each product. Where it appears on those pages, click the More Information button to see the design documentation.