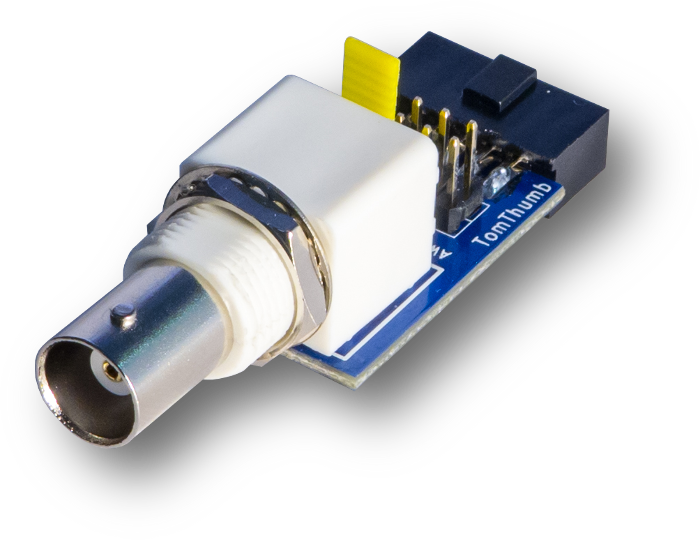 BitScope MP02 is an inline BNC adapter for BitScope Micro. It's designed for use with oscilloscope probes and coaxial cables.
Supports Standard Oscilloscope Probes.
Use Attenuating, Differential & Current Probes.
Switchable Single In-Line Analog BNC Input (CHA).
Dual Analog Inputs via Diagnostic Port (CHA/CHB).
Shared Comparator Channels (CHA/L7,CHB/L6).
Single In-Line Analog BNC Output (AWG).
Four Dedicated Logic Channel Inputs (L3..L0).
Two more Switchable Logic Inputs (L4/L5).
Single In-Line Logic Channel Input (L4).
Switchable Clock Generator (CLK/L5).
We call it BitScope Tom Thumb: a flexible in-line mixed signal adapter solution for BitScope Micro.

MP02 replicates the BitScope Micro Diagnostic Port on the 10-pin header mounted behind the BNC socket so full access to all the BitScope signal inputs and outputs remain available.
MP02 provides full access to all the features of BitScope Micro while adding the ability to monitor or generate signals via the BNC channel. It supports switching the BNC channel between the CHA analog input, the built-in waveform generator and logic channel 4. It's even possible to connect other port adapters designed for BitScope Micro via Tom Thumb.
Coaxial Cables and BNC Connections
MP02 is not just for oscilloscope probes. It also allows the use use BNC terminated cables for connection with other equipment that uses this common standard.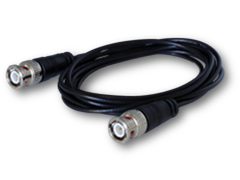 This makes MP02 ideal for data acquistion and related applications where RG-58 cabling with BNC termination is commonly used. If an application requires 50Ω termination, pass-through terminators like PAC-01 are available.
Compact In-Line Mixed Signal Design
In addition to the BNC connected analog inputs, MP02 provides connections for BitScope Micro's six logic inputs and waveform and clock generator outputs.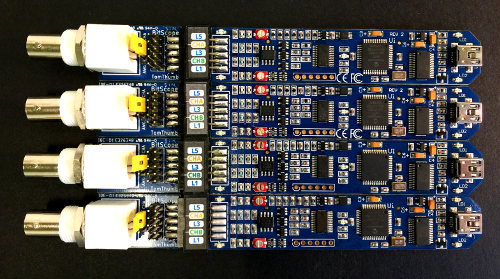 This is done via the 10-pin header mounted behind the BNC socket.
MP02 is an in-line design making it easy to to create compact channel strips to build multi-channel test, measurement and data acquisition systems (Read More).
For example, up to four BitScope Micro can be connected and powered by one Raspberry Pi Model B+ to create a LAN connected multi-channel instrument.
Every input and output is replicated on the 10-pin connector behind the BNC socket so anything that can be connected directly to BitScope Micro directly can be connected via Tom Thumb too. This makes it very convenient when breadboarding new circuit designs, especially if you want access to a BNC terminated signal source from other equipment.
Bench, Lab or Rack Mount
Coming soon are some mounting and case design ideas for MP02. The BNC sockets are supplied with ring nuts and washers so MP02 can be permanently mounted (with appropriate metalwork) and BitScope Micro plugged in as and when required.