2010-12-30
Meter 1.1 | Multi-Channel pre-release | AL10A
This beta release lays the groundwork for multi-channel and logic channel operation.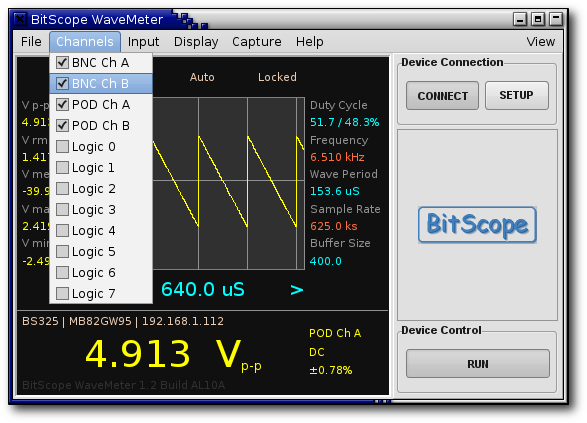 It reworks the main menu, adds support for capture on all analog inputs (i.e. BNC & POD inputs at the same time) and introduces capture on logic channels for multi-channel frequency meter applications.
Most of these changes are in preparation for a major new data logging and chart recording application due in January which is based on and inter-operates with Meter.
New menus include Input for selection of voltage ranges and probe scaling, Channels to select which channels are active and available for measurement, Display to control how the waveform data is to be displayed and Capture which controls how the data is processed.
Other behind the scenes improvements have also been made including support for analog prescalers (on BitScope models that include them) and more control over how quickly voltages and frequencies are captured and dislayed.
Operation should be familiar if you have used earlier versions of Meter. Let us know if you run into any bugs and stay tuned for the new chart recorder application next month!
Update: we recommend the latest production release until the next beta series commences.