2013-10-04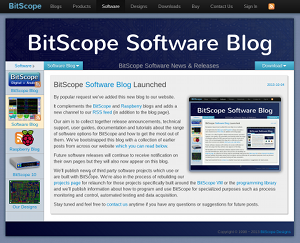 By popular request we've added this new blog to our website.
It complements the BitScope and Raspberry blogs and forms part of our RSS feed (in addition to the blog page).
Our aim is to collect together release announcements, technical support, user guides, documentation and tutorials about the range of software options for BitScope and how to get the most out of them. We've bootstrapped this blog with a collection of earlier posts from across our website which you can read below.
Future software releases will continue to receive notification on their own pages but they will also now appear on this blog.
We'll publish news of third party software projects which use or are built with BitScope. We're also in the process of rebuilding our projects page for relaunch for those projects specifically built around the BitScope VM or the programming library and we'll publish information about how to program and use BitScope for specialized purposes such as process monitoring and control, automated testing and data acquisition.
Stay tuned and feel free to contact us anytime if you have any questions or suggestions for future posts.