2013-10-21
BitScope Ed at OzBerryPi, Presentation Review.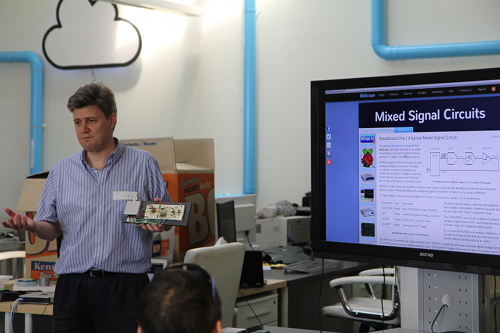 We were delighted to be invited to speak about BitScope Ed as part of the lineup at the OzBerryPi Sunday Meetup in Sydney yesterday.
We joined several other speakers and saw demonstrations of some amazing projects and ideas based on Raspberry Pi and Arduino.
For our part Bruce spoke about the history, design and development of BitScope itself and our roadmap for BitScope in Education.
He described Mixed Signal Circuits and how a BitScope makes them easier to understand and he showed a pre-production prototype for a new product planned for the Raspberry Pi.
After the talk we were very pleased to see the level of interest expressed in the core idea behind BitScope Ed; we believe a practical education in programming and electronics can be made more accessible and a lot of fun using Raspberry Pi, Arduino, some low cost components and prototyping boards together with a BitScope.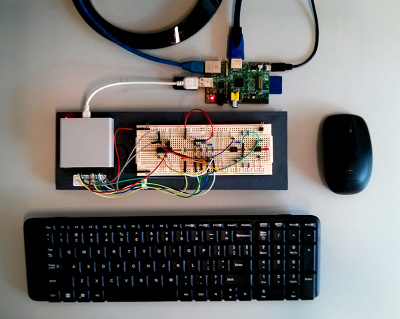 We demonstrated Breadboard One hooked up with BitScope Mini and a Raspberry Pi to create a low cost prototype for an Electronic Projects Lab and then we canvased the audience for their thoughts and ideas.
Real-Time Insights
Lots of people told us they liked that they could see what the circuit was doing in real-time and the insight this provided to help understand how it worked.
This was music to our ears as it's precisely what we think is missing when trying to do this sort of thing without a BitScope (or a large test bench loaded with conventional test equipment). When you change something in the circuit or modify the inputs you get to see how the circuit responds immediately.
Triggered & Mixed Signal
Of course these guys were savvy, being hardware hackers working on Arduino and RPi based projects so we were not surprised they understood how useful BitScope is as a debugging tool with logic, SPI, I2C and other serial protocol analysis sitting along side a dual channel oscilloscope and waveform generator.
What was interesting was the feedback about how BitScope differs from other stream capture only logic analyzers like Saleae which don't offer real-time refresh or triggered mixed signal waveform displays. From a diagnostic perspective when debugging a complex mixed signal circuit and from an educational one when learning how a simple circuit works, this was seen as a significant advantage. The compact all-in-one solution it provides was not lost on anyone either.
Bruce also presented a brief history of BitScope Designs and there was a lot more discussed around the use of BitScope for circuit debugging and diagnosis but the highlight for us was meeting a great bunch of people and some terrific presentations on some other cool projects. If you're in Sydney and you're into Raspberry Pi, Arduino, Linux or hardware hacking, you owe it to yourself to join Sydney's Open Source Hardware Maker Space, OzBerryPi!