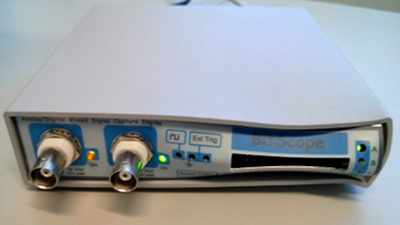 We received this BitScope Model 325 recently.
It's a new device which was returned by a customer following pretty clear evidence of rather unfortunate mishap during transit.
Of course we shipped him a new one as soon as he notified us and we've not had something like this happen before but, after some investigation based on the shape of the marking on the package, our courier suggested it was most likely crushed in a fork-lift accident during unloading.
Does not happen often we're told but, ouch!
Now we build BitScope tough, but perhaps not quite that tough. The case a 3mm walled solid aluminium extrusion designed to handle the rough and tumble of a typical student lab or engineering workshop. A person of average weight can stand on one and it won't bend or break, but we wondered, did this one still work?
To cheers in the office, it did still work so we've decided to put this one in the trophy cabinet!