BitScope in Online & Interactive Education
Last Thursday we were invited to present at Collaborative Solutions sponsored by NSW Trade & Investment.
It was an event for technology companies working in the education sector to meet with research, education and multinational corporations to explore new online and interactive educational solutions.
We presented ideas from BitScope Ed.
You can listen to our four minute pitch on the subject of project based interactive learning in the fields of Science, Technology, Engineering and Maths, also known as STEM.
Our focus is on using computer programming as a facilitating platform for problem solving projects built around low cost electronics such as Raspberry Pi and Arduino with BitScope.
BitScope networking together with online learning platforms offer both remote and local access and leverage cloud hosted syllabus materials and associated technologies such as WebRTC. These can be deployed for use by a range of web compatible and other devices.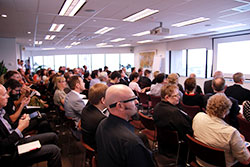 Project Based Learning with Feedback
We are advocates of project based learning (PBL), especially in STEM fields but PBL solutions should go further than simply using online delivery and interactive collaboration. When deployed to develop problem solving skills and improve understanding of how systems actually work, PBL solutions need to provide immediate feedback for students and educators.
The difficulty is that problems in the "real world" are often quite unpredictable and depend on factors that can be very hard to simulate in online only learning systems. This is not to say that online learning and computer programming are not powerful tools with which to build PBL solutions but when combined with with physical electronic projects where BitScope provides realtime feedback about project operation, these solutions become more powerful and engaging as students see how projects work and learn what may be wrong when projects do not work as expected.
There were a number of other interesting related projects presented. We'll blog about some of them soon.
Related Posts
| | | |
| --- | --- | --- |
| | Build a powerful mixed signal workstation with one simple 3D print ! | Sep 3 |
| | Raspberry Pi 3 Launch and BitScope Blade | Feb 29 |
| | Physical Computing with Raspberry Pi and BitScope! | Dec 01 |
| | BitScope, Ozberry & Pimoroni at Sydney Mini Maker Faire! | Aug 12 |
| | Picademy Workshop with Carrie Anne Philbin | Jul 27 |
| | BitScope Blade for Raspberry Pi at Hannover Maker Faire! | Jun 05 |
| | Getting Started with BitScope | May 08 |
| | BitScope Micro & Raspberry Pi in Education at BETT | Jan 21 |
| | Electronic Measurement with BitScope & Raspberry Pi | Nov 12 |
| | BitScope Micro Video Tutorial with Farnell element14 | Nov 10 |
| | MagPi talks Raspberry Pi B+, HATs & BitScope. | Aug 04 |
| | BitScope Micro, now available at Pimoroni! | Jun 01 |
| | BitScope Model 10 or BitScope Micro? | Apr 25 |
| | BitScope Micro (New Product) for Raspberry Pi! | Apr 11 |
| | BitScope Workshop at OzBerryPi | Apr 8 |
| | Volume education discounts now available online! | Mar 11 |
| | Low cost networked data acquisition with Raspberry Pi. | Dec 17 |
| | Collaborative Solutions, Online & Interactive Education. | Dec 09 |
| | Powerhouse ThinkSpace Digital Learning | Dec 04 |
| | The Sydney Mini Maker Faire Review. | Nov 28 |
| | BitScope Ed at the Sydney Mini Maker Faire! | Nov 20 |
| | Breadboard One, the 4 Bit Up/Down Counter | Nov 07 |
| | Sydney BitScope, Online Demo Updated. | Oct 30 |
| | BitScope Touch Screen User Interface | Oct 28 |
| | Network access for USB BitScopes via Raspberry Pi. | Oct 24 |
| | BitScope Ed at OzBerryPi, Presentation Review. | Oct 21 |
| | BitScope and friends at OzBerryPi Maker Space | Oct 20 |
| | Vertical Offsets and Dual Channel Display | Oct 19 |
| | How to Install BitScope DSO on Raspberry Pi | Oct 18 |
| | Breadboard One, a typical Mixed Signal Circuit. | Oct 17 |
| | Electronic Projects Lab for Raspberry Pi | Oct 17 |
| | BitScope Smart Port. The clever connection. | Oct 12 |
| | BitScope Ed, an Educational Blog about Electronics. | Oct 09 |
| | Why the oscilloscope update rate is important. | Oct 06 |
| | Visualizing sound with Sonic Pi and BitScope | Oct 05 |
| | Differential measurements matter, here's why... | Oct 01 |
| | BitScope Raspberry Pi Oscilloscope | Sep 20 |
| | | More... |