BitScope Micro Questions & Answers
Yesterday we launched BitScope Micro and Raspberry Pi blogged about it, thanks Liz!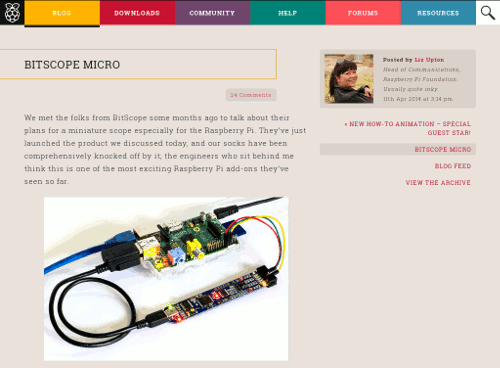 The response has been huge!
Traffic to parts of our website been much higher than anticipated so our apologies if we're a little slow online.
Demand for the Micro itself is also very strong but we do have stock and we're processing your orders ASAP.
We ask that you check your order history for the latest shipping news instead of emailing at the moment.
We will try to answer every email as quickly as possible but we're a little run off our feet just now :)
For more shipping information please see question 3 below.
We've also received and read a lot pre-sales questions about BitScope Micro so we thought instead of trying tweet, email or comment everywhere, we'd post this short Q&A and blog instead.
1. Pardon my ignorance, but what is BitScope?
It's a digital oscilloscope, logic analyzer, waveform and clock generator and spectrum analyzer in one USB connected device for test, measurement and data acquisition. In the case of BitScope Micro, it's tailor made for Raspberry Pi!
2. Any plans for UK distribution? Any in the EU/Germany?
We sell BitScope worldwide online and ship direct to most countries (those serviced by FedEx and Airmail). That said, we understand that its better in some cases to have local distribution, especially in the EU, UK and other countries that levy VAT so we are working to establish this for BitScope Micro in the UK and elsewhere as soon as we can.
3. When will you start shipping?
Now! We have stock and we anticipate the first shipments (Express and Priority) will start on Tuesday. Standard airmail will start a day or so later. Don't forget about Easter (we'll be taking a few days off) but we expect to be shipping daily after that.
4. Will you hold stock for me?
Yes, if you place a provisional order on our system (just order as normal but choose SAVE instead of PAY at the end). This creates a proforma invoice for you which will remain allocated and valid for 14 days. If stock runs low (which is a possibility if this level of demand keeps up!) we may not be able to hold unpaid stock until we build more.
5. I think this thing looks awsome. I just wish the price was lower!
We hear you and we'd like to oblige but it's a question of volume, manufacture and distribution and we're working on all three fronts. We've done our best to keep the list price as low as we can and we offer volume pricing already if you want band together with some friends for some substantial discounts.
6. Will it be cheaper if bought locally?
We can't say (see question 2). We hope so, at least in terms of shipping and local taxes. In the meantime we're offering discounted shipping for standard airmail and FedEx Priority orders until the end of April for BitScope Micro.
7. Please could you provide a series of tutorials?
Sure! We have a lot planned for BitScope Micro and Raspberry Pi over the coming months. Tutorials to help you learn how to use it and others to teach you how to program it. Not just coding for BitScope but to teach and learn physical computing, electronics and more using BitScope. For more about us in education have a look at BitScope Ed.
8. Thanks for making this amazing tool folks!
Thanks, you're welcome :)
Related Posts
| | | |
| --- | --- | --- |
| | Build a powerful mixed signal workstation with one simple 3D print ! | Sep 3 |
| | Raspberry Pi Zero W, a wireless wonder for only $10 ! | Feb 28 |
| | Raspberry Pi 3 Launch and BitScope Blade | Feb 29 |
| | Physical Computing with Raspberry Pi and BitScope! | Dec 03 |
| | BitScope Micro with Raspberry Pi Touchscreen Display! | Sep 09 |
| | BitScope, Ozberry & Pimoroni at Sydney Mini Maker Faire! | Aug 12 |
| | BitScope Blade for Raspberry Pi at Hannover Maker Faire! | Jun 05 |
| | BitScope DSO 2.9 Now Available. | Jun 02 |
| | Getting Started with BitScope | May 08 |
| | BitScope Micro In-Line Data Acquisition | Apr 02 |
| | Where to Buy BitScope Micro & Accessories. | Feb 19 |
| | Bootstrapping Raspberry Pi 2 for BitScope | Feb 05 |
| | Raspberry Pi 2 and BitScope Performance | Feb 02 |
| | BitScope Micro & Raspberry Pi in Education at BETT | Jan 21 |
| | BitScope Connection Ports Explained | Dec 19 |
| | BitScope Micro and Oscilloscope Probes | Dec 10 |
| | Raspberry Pi Model A+ or B+ or B+ Slimline? | Nov 14 |
| | Electronic Measurement with BitScope & Raspberry Pi | Nov 12 |
| | Hands on with BitScope Micro at electronica 2014 | Nov 11 |
| | BitScope Micro Video Tutorial with Farnell element14 | Nov 10 |
| | BitScope Micro and Raspberry Pi at electronica 2014! | Nov 06 |
| | BitScope Micro element14 Webinar Review. | Nov 03 |
| | BitScope Micro Webinar with element14! | Oct 29 |
| | element14 launches BitScope Micro for Raspberry Pi! | Oct 27 |
| | BitScope Micro Diagnostic Port Explained. | Aug 16 |
| | MagPi talks Raspberry Pi B+, HATs & BitScope. | Aug 04 |
| | Raspberry Pi B+ BitScope x 4 = 8 analog + 32 logic ! | Aug 01 |
| | BitScope Model 10 or BitScope Micro? | Apr 25 |
| | BitScope Micro, what's in the box? | Apr 17 |
| | BitScope Micro Questions & Answers | Apr 12 |
| | BitScope Micro (New Product) for Raspberry Pi! | Apr 11 |
| | BitScope Workshop at OzBerryPi | Apr 8 |
| | BitScope Library V2 API Guide Published | Mar 21 |
| | Optimizing real-time waveform display for Raspberry Pi | Mar 17 |
| | Volume purchase discounts now available online! | Mar 11 |
| | BitScope Documentation Updated Online | Mar 05 |
| | BitScope DSO Version 2.6 Production Release | Mar 03 |
| | Low cost networked data acquisition with Raspberry Pi. | Dec 17 |
| | BitScope Server, shared remote access for any BitScope! | Dec 15 |
| | BitScope DSO updated for Server Compatibility | Dec 14 |
| | Collaborative Solutions, Online & Interactive Education. | Dec 09 |
| | Powerhouse ThinkSpace Digital Learning | Dec 04 |
| | The Sydney Mini Maker Faire Review. | Nov 28 |
| | BitScope Ed at the Sydney Mini Maker Faire! | Nov 20 |
| | BitScope Library V2.0 and Proto Scope Application | Nov 15 |
| | BitScope DSO, Logic, Chart, Meter and Library updated | Nov 12 |
| | Automated Waveform Analysis with Raspberry Pi | Nov 09 |
| | Reducing Quantization Noise with BitScope | Nov 08 |
| | Breadboard One, the 4 Bit Up/Down Counter | Nov 07 |
| | Using a USB BitScope with any Linux system. | Nov 05 |
| | Sydney BitScope, Online Demo Updated. | Oct 30 |
| | BitScope Touch Screen User Interface | Oct 28 |
| | Network access for USB BitScopes via Raspberry Pi. | Oct 24 |
| | BitScope is virtually indestructible, just as we intended! | Oct 23 |
| | BitScope Ed at OzBerryPi, Presentation Review. | Oct 21 |
| | BitScope and friends at OzBerryPi Maker Space | Oct 20 |
| | Vertical Offsets and Dual Channel Display | Oct 19 |
| | How to Install BitScope DSO on Raspberry Pi | Oct 18 |
| | Breadboard One, a typical Mixed Signal Circuit. | Oct 17 |
| | Electronic Projects Lab for Raspberry Pi | Oct 17 |
| | Dual Channel Active Differential Probe (New Product). | Oct 15 |
| | BitScope Smart Port. The clever connection. | Oct 12 |
| | BitScope Ed, an Educational Blog about Electronics. | Oct 09 |
| | Why the oscilloscope update rate is important. | Oct 06 |
| | Visualizing sound with Sonic Pi and BitScope | Oct 05 |
| | BitScope Software Blog Launched | Oct 04 |
| | Differential measurements matter, here's why... | Oct 01 |
| | How to Install Raspbian and BitScope on Raspberry Pi | Sep 29 |
| | BitScope Website Upgrade and Blog Launch | Sep 29 |
| | High speed data acquisition with Raspberry Pi | Sep 25 |
| | BitScope Software for Raspberry Pi Oscilloscope | Sep 27 |
| | BitScope DSO 2.7 update (for Raspberry Pi only) | Sep 24 |
| | BitScope Raspberry Pi Oscilloscope | Sep 20 |
| BitScope | BitScope DSO Tutorial Examples | Sep 09 |
| | | More... |