Karl-Ludwig Butte from Butte Verlag will present at the British Educational Training and Technology Show (BETT).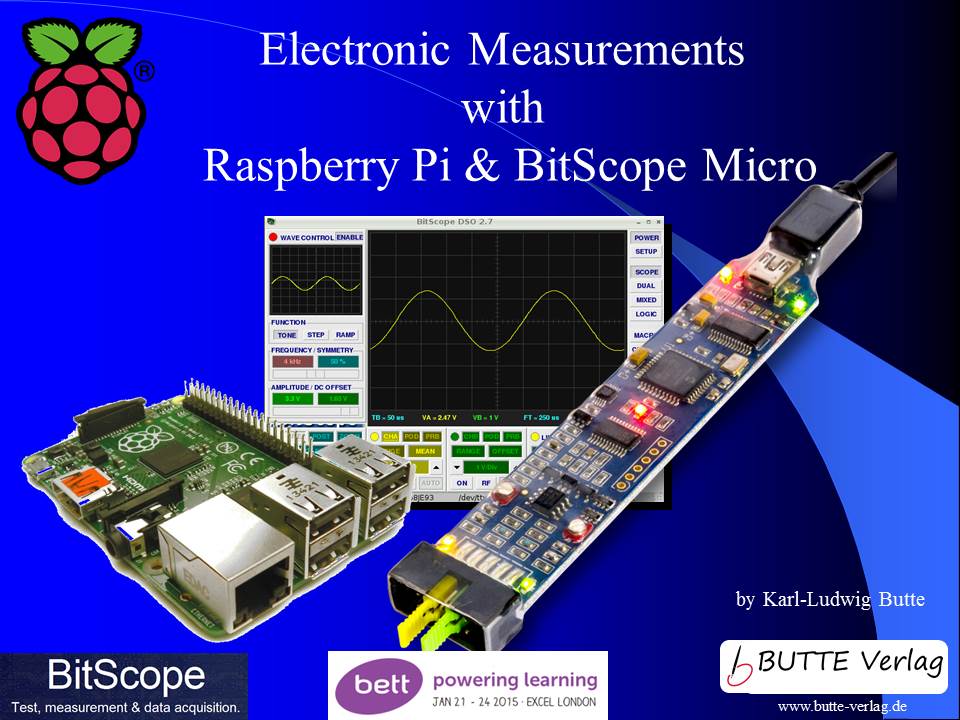 He will explain how Raspberry Pi and BitScope Micro can be used together to create a platform for education in the fields of electronics, test and measurement.
Karl-Ludwig will join a host of others on the Raspberry Pi stand to run Picademy style workshops and share their passion for all things Raspberry Pi in education.
For his part, Karl-Ludwig will explain what BitScope Micro is and how to set it up with Raspberry Pi. Delegates will see what's possible using this mixed signal scope for Raspberry Pi with some demonstrations using entry level electronic circuits such as a clock generators and amplifiers. Other experiments will cover additional features of BitScope Micro such as the built-in waveform generator, logic analyzer and spectrum analyzer.
Karl-Ludwig will showcase a new mixed signal education lab for BitScope Micro too.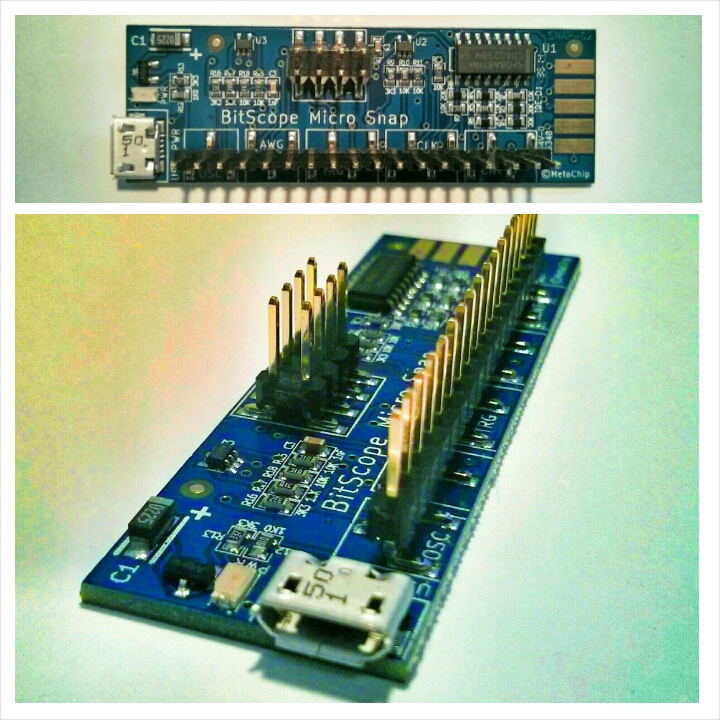 Based on Breadboard One, this tiny new BitScope accessory provides a flexible platform around which to build an entire course in mixed signal electronics.
Being independently USB powered it can be operated powered by Raspberry Pi or it can connect directly with BitScope Micro to create a tiny low cost mixed signal lab for electronics similar to our breadboard prototype built with BitScope Model 10.
If you are interested learn more about test and measurement, Karl-Ludwig will also have the BitScope Micro Probe Adapter on show where you can learn how to use various probes designed for oscilloscopes with BitScope Micro for all sorts of voltage and other signal measurements.
Karl-Ludwig has previously written an excellent series of articles about how to make the most of BitScope Micro and Raspberry Pi when making electronic measurements. They're all published in MagPi magazine and they provide a good introduction using Raspberry Pi with BitScope Micro for test and measurement.
To learn more about BitScope Micro itself please see the tutorial videos. Karl-Ludwig has more instalments planned for MagPi too and if you're going to BETT be sure not to miss his session on Friday at 5pm (timetable).
Related Posts
| | | |
| --- | --- | --- |
| | Build a powerful mixed signal workstation with one simple 3D print ! | Sep 3 |
| | Raspberry Pi 3 Launch and BitScope Blade | Feb 29 |
| | Physical Computing with Raspberry Pi and BitScope! | Dec 01 |
| | BitScope, Ozberry & Pimoroni at Sydney Mini Maker Faire! | Aug 12 |
| | Picademy Workshop with Carrie Anne Philbin | Jul 27 |
| | BitScope Blade for Raspberry Pi at Hannover Maker Faire! | Jun 05 |
| | BitScope DSO 2.9 Now Available. | Jun 02 |
| | Where to Buy BitScope Micro & Accessories. | Feb 19 |
| | Bootstrapping Raspberry Pi 2 for BitScope | Feb 05 |
| | Raspberry Pi 2 and BitScope Performance | Feb 02 |
| | BitScope Connection Ports Explained | Dec 19 |
| | BitScope Micro and Oscilloscope Probes | Dec 10 |
| | Raspberry Pi Model A+ or B+ or B+ Slimline? | Nov 14 |
| | Hands on with BitScope Micro at electronica 2014 | Nov 11 |
| | BitScope Micro Video Tutorial with Farnell element14 | Nov 10 |
| | BitScope Micro and Raspberry Pi at electronica 2014! | Nov 06 |
| | BitScope Micro element14 Webinar Review. | Nov 03 |
| | BitScope Micro Webinar with element14! | Oct 29 |
| | element14 launches BitScope Micro for Raspberry Pi! | Oct 27 |
| | BitScope Micro Diagnostic Port Explained. | Aug 16 |
| | MagPi talks Raspberry Pi B+, HATs & BitScope. | Aug 04 |
| | Raspberry Pi B+ BitScope x 4 = 8 analog + 32 logic ! | Aug 01 |
| | BitScope Micro, now available at Pimoroni! | Jun 01 |
| | BitScope Model 10 or BitScope Micro? | Apr 25 |
| | BitScope Micro, what's in the box? | Apr 17 |
| | BitScope Micro Questions & Answers | Apr 12 |
| | BitScope Micro (New Product) for Raspberry Pi! | Apr 11 |
| | BitScope Workshop at OzBerryPi | Apr 8 |
| | BitScope Library V2 API Guide Published | Mar 21 |
| | Optimizing real-time waveform display for Raspberry Pi | Mar 17 |
| | Volume purchase discounts now available online! | Mar 11 |
| | BitScope Documentation Updated Online | Mar 05 |
| | BitScope DSO Version 2.6 Production Release | Mar 03 |
| | Low cost networked data acquisition with Raspberry Pi. | Dec 17 |
| | BitScope Server, shared remote access for any BitScope! | Dec 15 |
| | BitScope DSO updated for Server Compatibility | Dec 14 |
| | Collaborative Solutions, Online & Interactive Education. | Dec 09 |
| | Powerhouse ThinkSpace Digital Learning | Dec 04 |
| | The Sydney Mini Maker Faire Review. | Nov 28 |
| | BitScope Ed at the Sydney Mini Maker Faire! | Nov 20 |
| | BitScope Library V2.0 and Proto Scope Application | Nov 15 |
| | BitScope DSO, Logic, Chart, Meter and Library updated | Nov 12 |
| | Automated Waveform Analysis with Raspberry Pi | Nov 09 |
| | Reducing Quantization Noise with BitScope | Nov 08 |
| | Breadboard One, the 4 Bit Up/Down Counter | Nov 07 |
| | Using a USB BitScope with any Linux system. | Nov 05 |
| | Sydney BitScope, Online Demo Updated. | Oct 30 |
| | BitScope Touch Screen User Interface | Oct 28 |
| | Network access for USB BitScopes via Raspberry Pi. | Oct 24 |
| | BitScope is virtually indestructible, just as we intended! | Oct 23 |
| | BitScope Ed at OzBerryPi, Presentation Review. | Oct 21 |
| | BitScope and friends at OzBerryPi Maker Space | Oct 20 |
| | Vertical Offsets and Dual Channel Display | Oct 19 |
| | How to Install BitScope DSO on Raspberry Pi | Oct 18 |
| | Breadboard One, a typical Mixed Signal Circuit. | Oct 17 |
| | Electronic Projects Lab for Raspberry Pi | Oct 17 |
| | Dual Channel Active Differential Probe (New Product). | Oct 15 |
| | BitScope Smart Port. The clever connection. | Oct 12 |
| | BitScope Ed, an Educational Blog about Electronics. | Oct 09 |
| | Why the oscilloscope update rate is important. | Oct 06 |
| | Visualizing sound with Sonic Pi and BitScope | Oct 05 |
| | BitScope Software Blog Launched | Oct 04 |
| | Differential measurements matter, here's why... | Oct 01 |
| | How to Install Raspbian and BitScope on Raspberry Pi | Sep 29 |
| | BitScope Website Upgrade and Blog Launch | Sep 29 |
| | High speed data acquisition with Raspberry Pi | Sep 25 |
| | BitScope Software for Raspberry Pi Oscilloscope | Sep 27 |
| | BitScope DSO 2.7 update (for Raspberry Pi only) | Sep 24 |
| | BitScope Raspberry Pi Oscilloscope | Sep 20 |
| BitScope | BitScope DSO Tutorial Examples | Sep 09 |
| | | More... |