BitScope Ed | Project Based Learning in Electronics
We often get asked about designing and debugging electronics, microcontrollers, analog and digital circuits and other mixed signal systems. BitScope was designed with all these things in mind and we have long published circuit designs for BitScope itself. In recent years, building your own low cost electronic circuits has become very popular, especially with projects like Raspberry Pi and Arduino, and this has highlighted just how many people want more practical and educational information to help them learn to design, build and most importantly, debug their own electronics projects.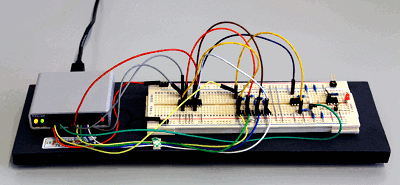 At BitScope this is what we do so we've started this blog to develop some low cost projects for students, hobbyists and hardware hackers to learn as they build. We aim to keep it simple and educational while also providing practical advice for real world designs.
We hope it may also provide teachers with some useful material they can refer to in support of their own curriculum and teaching practice.
At the heart of all this is of course... a BitScope!
The rest of the equipment and resources required are just basic electronic components, breadboards and wires and sometimes, a Raspberry Pi or Arduino board and accessories. You won't need an oscilloscope, logic analyzer, waveform generator, power supply or spectrum analyzer because this is what BitScope provides. If you have a Raspberry Pi handy you may not even need a PC!
To get the ball rolling we've created Breadboard One pictured above. It combines an up/down counter, an R/2R D/A convertor, a schmitt trigger, comparator, invertor and low pass filter all powered, controlled and monitored by a BS10.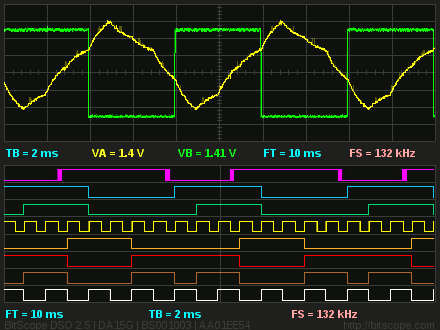 We'll explain the details of the circuit design, components used and construction, testing and debugging techniques in future posts.
For now, have a look at this screen shot.
It's what you'll see when the BitScope is powered and its clock generator and Mixed Signal Oscilloscope (MSO) modes enabled.
It shows eight timing/logic channels and two analog waveforms on a shared timebase in a split screen display; analog waveforms at the top, digital signals at the bottom. The signals are picked up at various points in the circuit and from this one display you can see the operation of the entire circuit.
It may appear complicated at first but as you'll see in future BitScope Ed posts, each group of signals shows the operation of one element in the circuit and each one is quite easy to understand when you can all see the associated signals at once.
We hope this series will be instructive for anyone seeking to understand circuit design, from simple analog and digital electronics up to full feature microcontroller based mixed signal systems with sensors, servos and other real-world I/O like you might find listed on instructables Arduino or Raspberry Pi project pages.
If you're a teacher looking to set up a practical electronics course, an all-in-one setup like this could save a lot of time, effort and money too. Whatever your interest, we invite your feedback and we're open to requests for what we should cover in future. We'll add comment support to our blogs soon but in the meantime please contact us.