2004-09-09 BitScope BS10 back in stock
BS50U is back in stock and more BS310U stock is due late next week. Our apologies to those customers who have been waiting on back order. Demand for these new models has significantly exceeded our expectations but we are scheduling increased production. However, if you want either model in the near future we recommend you get an order in to ensure a unit is allocated to you !

2004-07-01 New model BitScope available in-store now
Launched today is the new USB BitScope BS310U, the successor to our very popular BS300U. BS310U offers 4X more capture memory, built-in double speed USB and new features including a x10 and x50 gain input multiplier, software switchable AC/DC coupling, 50 ohm termination all in a package about 2/3 the size and weight of BS300U.
2004-06-22 Announcing BitScope BS10 !

About the same size and weight as a Pocket PC, this USB powered BitScope needs no bulky accessories. With the same mixed signal, analog and logic capture capabilities as the original, BitScope BS10 sets the new standard for portable PC based test gear.
2004-02-28 The SlashDot crowd dropped by again :-)

A reader at Slashdot (the Internet's premier technews discussion site) asked the question "Cheap PC Oscilloscopes - Any Recommendations?" which created a lot of heat and some light which may be of interest to our other visitors.
Our website survived the Slashdot effect fine this time but our online demo has become rather busy as a result so if you want to try it out we recommend you maybe try again in a day or so. Our sales and technical staff are rather busier than usual too, but they will get back to those of you who have sent us enquiries just as soon as they can !
For new visitors, here are some quick links to an overview of BitScope, its software, hardware design, programming API, expansion PODs and networking information.
And in answer to the original question, we think BitScope is ideal for educational use :-)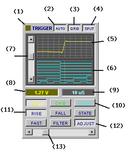 2004-02-12 BitScope DSO 1.1 Online User Guide
The BitScope DSO 1.1 Online Guide is now available.
The guide is designed as an online quick reference and introduction to the main features of this latest version of the BitScope DSO. New screenshots and examples have been created using the SYDNEY BitScope so you can try them out yourself even if you don't have your own BitScope.
The new features of this software are documented which in addition to the Spectrum Analyzer includes time and frequency measurement cursors and new on-screen information data displays. Check it out.