Power and mount two Raspberry Pi and USB peripherals.
BitScope Blade BB02 is a power and mounting solution for two Raspberry Pi and (optionally) Touchscreen Display.
It's perfect for building industrial strength stand-alone fail-safe server solutions with Raspberry Pi.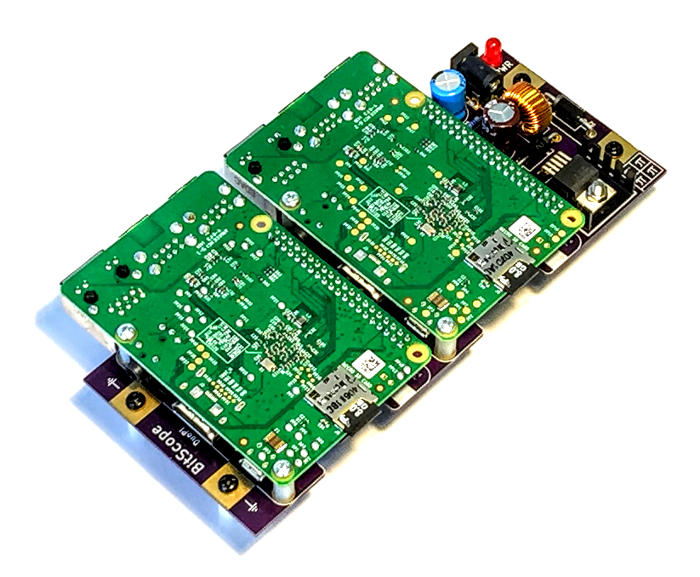 Key Features
Powers up to two Raspberry Pi.
Works with Pi 7" Touch Display.
Powerful switch mode supply.
Can use 9V to 48V power source.
Compatible with 12V & 24V UPS.
Use with standard PoE solutions.
Power external USB HDD & SSD.
Up to 8 connected USB devices.
Rack mount solutions available.
4 x 3mm mounting + stand-offs.
Power tabs for "cable free" use.
Low cost, light weight and generates very little heat.
A complete industrial quality, reliable power and mounting solution for Raspberry Pi.
Product Overview
BitScope Blade Duo Pi is a rack and wall mountable power solution for a pair of Raspberry Pi computers.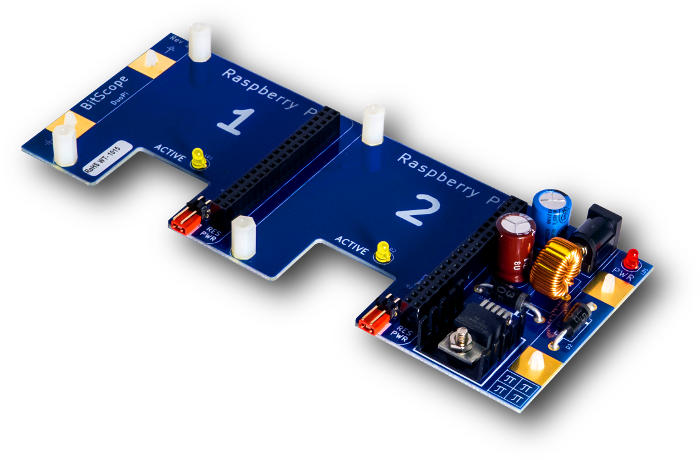 Duo Pi solves the power problem when using Raspberry Pi in industrial and related mission critical applications.
It has a built-in 5V switch mode power supply capable of powering two Raspberry Pi and up to eight USB devices which are be connected via the Raspberry Pi.
Such devices can include almost any type of USB hard disk (HDD) or solid-state drive (SSD). Of course any USB powered BitScope (such as BitScope Micro) other peripherals such as keyboards, mice, WiFi and Bluetooth dongles can all be used.
Duo Pi accepts supply voltages ranging from 9V to 48V making it compatible with 9V, 12V, 24V and 48V power sources.
It can be used with simple plug packs, 12V batteries, low cost uninterruptible power supplies (UPS) and even passive power over ethernet (PoE) solutions. Duo Pi can even be used to power and mount the Raspberry Pi 7" Touchscreen Display, two Raspberry Pi, and up to four BitScopes!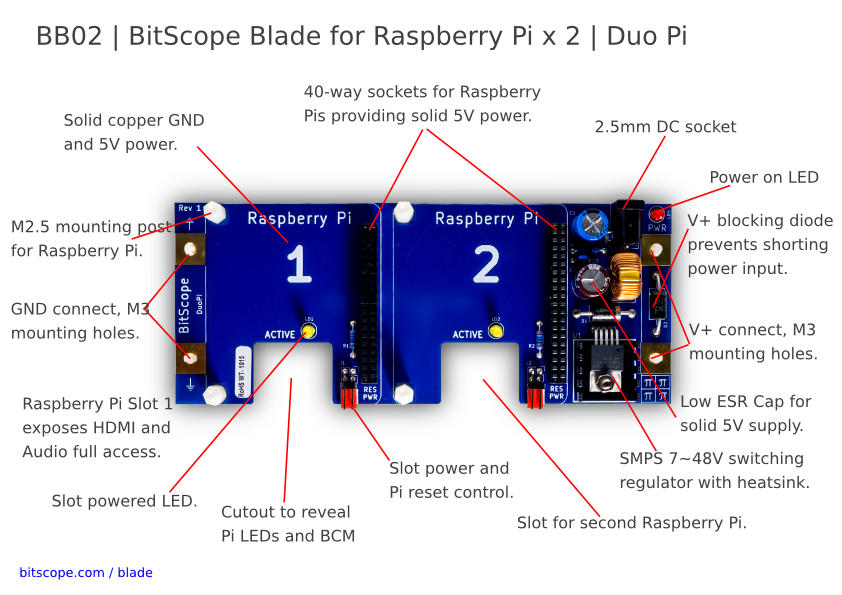 BitScope Blade Server Packs
A set of five BitScope Blade Duo Pi can be configured as a 10 node compute cluster pack with Raspberry Pi.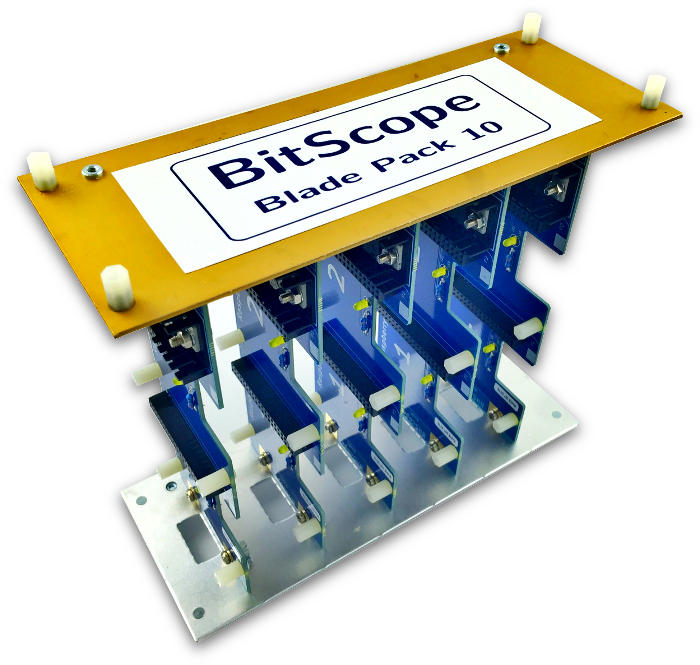 The mounting plates are connected to V+ (top) and GND (base) on each blade. The insulating mounting posts on the plates mean that by simply connecting 9V to 48V to the top plate, the entire cluster can be powered without any additional wiring. The base plate also has cut-outs to run HDMI cables allowing up to 5 monitors to be connected to each cluster. Two pack can be mounted side-by-side in a 19" rack to build a Blade Rack 20 server just 5RU high.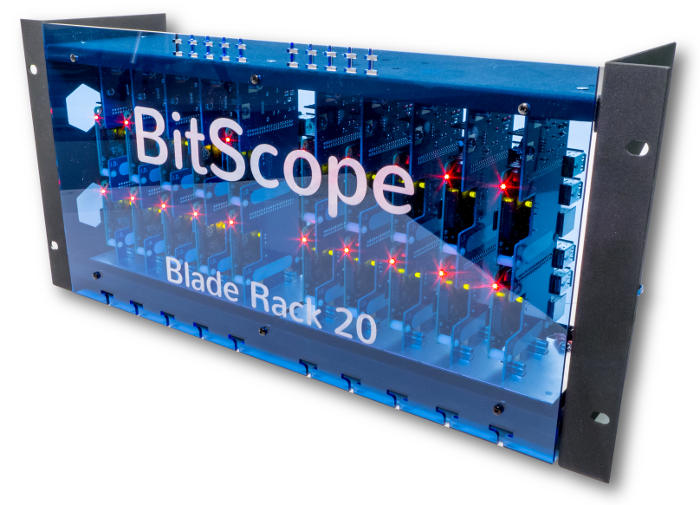 Specifications
| | |
| --- | --- |
| Product Name | BB02 BitScope Blade Duo Pi |
| Compatible Raspberry Pi Models | Raspberry Pi 3, 2, B+, A+ and Pi Zero |
| Supports Raspberry Pi Display | Yes (optional wall mount). |
| Raspberry Pi per Unit | 2 |
| USB Ports per Unit | 8 |
| HDMI & sound outputs | Yes (Raspberry Pi slot 1) |
| Primary Power | 5V (Raspberry Pi J8 & USB) |
| Auxilliary Power | Yes (5V via header) |
| Indicator LEDs | Board Power & Devices Available |
| Device power-down header | Yes |
| Processor reset/interrupt | Yes |
| Blade mount tabs | Vcc & Gnd with M3 holes |
| Raspberry Pi mounts | M2.5 per HAT specification |
| Mounting feet included | Yes |
| 19" rack compatible | 5RU (with metalwork option) |
| DIN Rail compatible | Yes (with DIN rail option) |
| Power budget | 4A (peak), 3A (continous) |
| UPS compatible | Yes (includes blocking diode) |
| PoE compatible | Yes (with passive PoE cable) |
| Power Requirement | 9V (4A) ~ 48 V (500mA) |
| Operating Temperature | 0 °C to 40 °C |
| Storage Requirements | -40 °C ~ +40 °C / 5 % ~ 95 % RH |
| Dimensions (W x D x H) | 65 x 160 x 25 mm |
| Weight (Net) | 64g |
EL04C 01 FB26L 05