This product has been superseded.
BitScope Mixed Signal Oscilloscope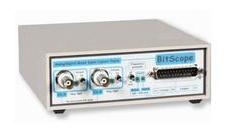 BitScope 300 is a high performance but affordable Mixed Signal Oscilloscope for use with a Windows or Linux PC.
Combining a Digital Storage Oscilloscope, Logic Analyzer, Waveform Generator and Spectrum Analyzer in one robust portable unit, BitScope 300 is the perfect choice for analog, digital or mixed signal environments.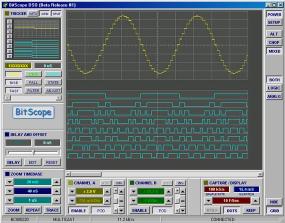 Powerful Software
Included with BitScope 300 is our powerful DSO software that makes maximum use of BitScope's fast and deep mixed mode data capture capabilities.
Whether you're working in analog down at audio frequencies (or below !) or up at the high speeds of microcontrollers and logic in the digital and analog domains, or anywhere in between, BitScope and your PC is the ideal testing and debugging solution.
BitScope is well connected
BitScope 300 is very well connected. Choose from USB, Ethernet (UDP/IP) or RS-232 serial for connection to your PC. You can even have all three if you want!
The power of networking
With BitScope 300 you have the option of networking which offers a huge range of possibilities ! You can connect your BitScope directly to your PC via your Ethernet card, via your LAN to the room next door or via the Internet anywhere around the world.
To see what we mean, try our BitScope 300 from your own PC live via the Internet.
Open Design Hardware
Like the original BitScope published in Circuit Cellar magazine in 1999, the hardware design of BitScope 300 is open and published online and full schematics are available for download. For those who like to build their own kits are also available. Even if you don't plan to build a BitScope this information can be very useful as an aid to understanding how it all works.
User Programmable
Of course if you prefer to write your own DAQ or test instrument software, or maybe plug BitScope into software such as MatLab, LabVIEW, HP VEE or even a standard spreadsheet application, you can ! All BitScopes work pretty much the same way so to make this easy we've published a detailed programming manual providing all the info you need to use it with your own software.