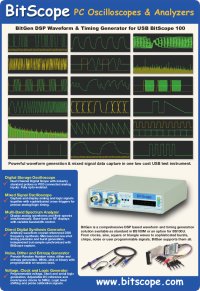 DSP Waveform & Timing Generator
BitGen is a DSP waveform and timing generator feature of BS120 (optional for BS100).
Key features:
Standard and/or arbitrary wave-functions
Continuous, burst, chirp, and noise modes.
Crystal referenced vari-clock, DDS & PRNG.
Frequency precision <1ppm (DDS).
Sample jitter below 10nS (variable clock).
Event timing precision better than 50nS.
Synchronized clock/timing channel.
Scope probe compensation signal.
Clock and voltage generation.
Logic family level shifter.
BitGen is dual channel (waveform+clock) coprocessor which supports advanced analog waveform, trigger and clock generation with external sync, trigger and clocking capabilities.
It can output continuous waveforms including sinewaves, triangle, sawtooth, pulse and square waves but its real power lies in its programmability and sophisticated triggers & timing.
Generator Solution
BitGen+BitScope offers a complete mixed signal synthesis and acquisition system.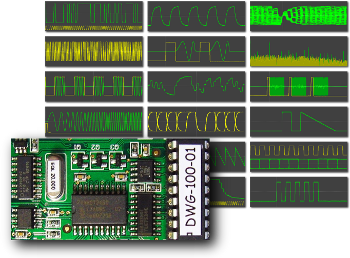 Generate and capture standard wave-functions, clocks, triggers, one-shot bursts, sweeps, chirps, pink/white noise, arbitrary waveforms or even waveforms previously captured with BitScope.
BitGen operates independently of BitScope but can be fully synchronized with signal capture.
Similarly triggers are independent but they can be interconnected under software control so setup is quick and easy; there are no external cables or connections required to use them together.
The BitGen output (WavePort) can be switched to BNC CH-B when enabled so output waveforms can be monitored effortlessly. The same signal is also accessible via BitScope's Smart Port pin 26.
Event Timing And Measurement
BitGen is much more than just an arbitrary waveform generator.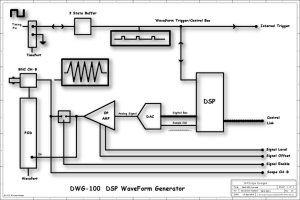 Used with BitScope's powerful trigger and delayed timebase controls it allows the creation of precisely timed trigger, clock or waveform events for accurate delay and period measurement.
In addition, BitGen has a separate timing channel (TimePort) accessed via the front panel of the BitScope which can be used to send or receive external clock and/or trigger signals.
The TimePort output is sample synchronised with waveform generation and capture and can be used to drive the circuit under test or trigger other test equipment as may be required.
When configured as an input it allows an external clock to drive the waveform generator itself or it can be used to trigger generator operation independently of the BitScope.
Fully Programmable And Easy To Use
Included with BitGen is the BitGen Programming Library and BitGen Control Panel.
Together the library and the control panel provide interractive or fully customised programmable access to all the features and functions of BitGen.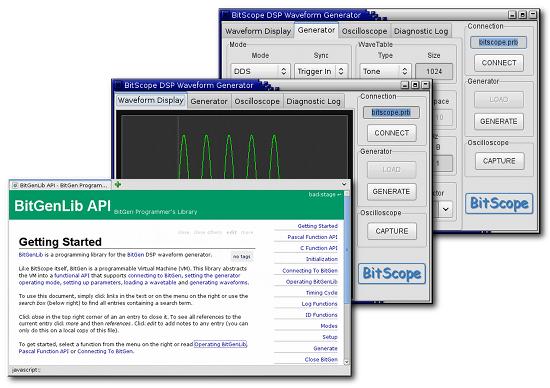 Use the control panel stand-alone to generate a wide variety of arbitrary waveforms, clock signals, frequency sweeps, noise or voltages.
Learn in detail how BitGen works using the control panel's diagnostic view or link the library to your own software to create waveform test vectors to suite your needs.
Whether generating waveforms down at audio frequencies and below or creating clocks or other signals up to multi-megahertz, BitGen can do it all with ease using the library and/or control panel.
These software tools provide full access to BitGen's WavePort and TimePort allowing external triggers for waveform and clock synchronisation or even external clock driven generator operation.
There is also library support for BitGen's DC voltage generation, clocked logic level shifting, precision frequency and/or event time generation.