Physical Computing with Raspberry Pi and BitScope !
Build reliable industrial strength workstations, servers and cloud computing solutions with Raspberry Pi.
BitScope Blade offers robust power & mounting for Raspberry Pi, HATs, Displays and BitScope.
It is available in three editions: Uno Pi, Duo Pi and Quattro Pi.
They work with BitScope, Raspberry Pi Zero, A+, B+, 2 & 3.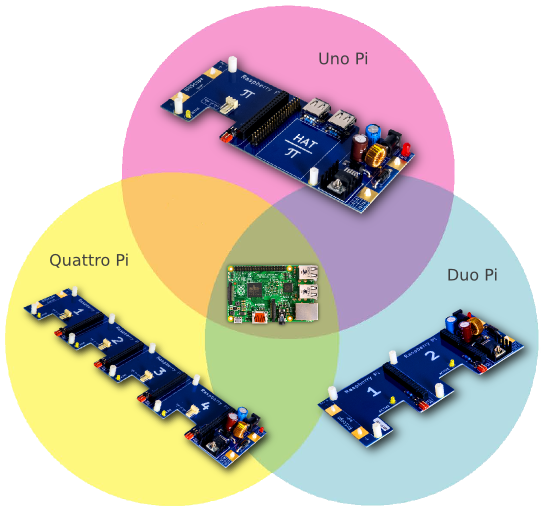 The different editions offer mounting for different numbers of Raspberry Pi but they all offer features similar to this: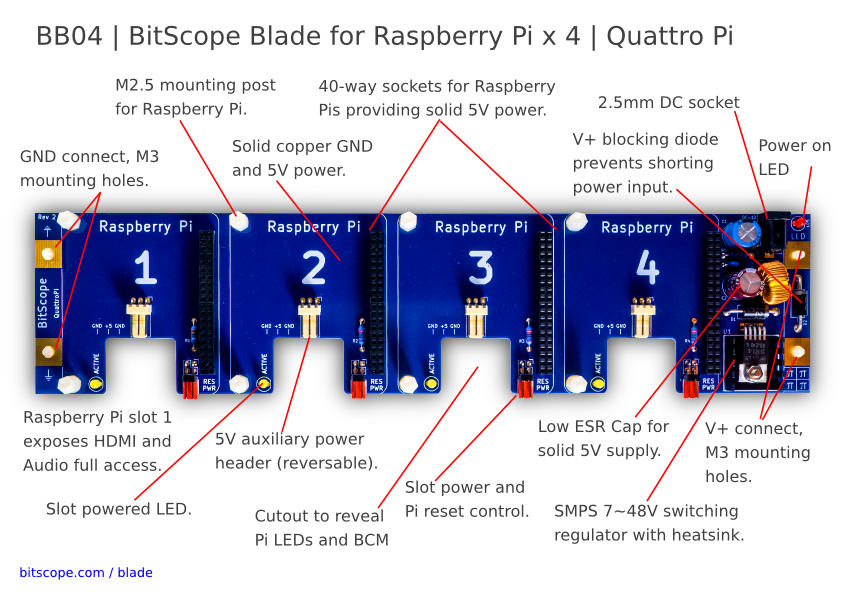 Every Blade can be used with simple plug packs, 12V batteries, low cost uninterruptible power supplies (UPS) and even passive power over ethernet (PoE) solutions. Just one Uno Pi can be used to power and mount the Raspberry Pi 7" Touchscreen Display, one Raspberry Pi, a Rapsberry Pi HAT and up to four BitScopes!
Visit the product pages for each model for the full information and specifications for each one.
BitScope Blade Packs
A design goal for BitScope Blade was to enable Raspberry Pi to be conveniently mounted to build compute clusters, cloud hosting platforms and even render or software build farms.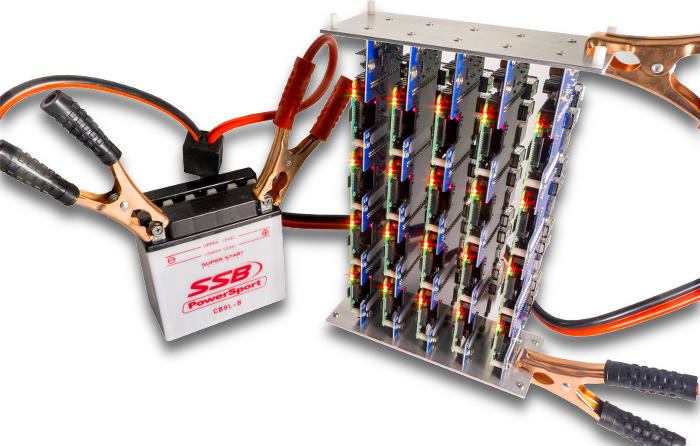 Since the release of the BCM2836 based Raspberry Pi Version 2 it has evolved to become a powerful single board computer.
When teamed up with BitScope Blade it makes the ideal candidate as a node in a compute cluster.
BitScope Blade solves the key power problem by providing high current voltage regulation right next to the Raspberry Pi.
Power is connected via the J8 header (not micro-USB) and a large low ESR capacitor enables the use of high start-up current devices such as USB disk drives.
BitScope Blades accept supply voltages ranging from 9V to 48V so it's compatible with 9V, 12V, 24V and 48V power and mounting plates are available to secure them in packs as shown here. The blades can be powered via the mounting tabs which means unecessary power wiring can be eliminated as shown here - one 12V battery powering 20 Raspberry Pi !
BitScope Blade Racks
BitScope Blade Packs are designed to mount in standard 19" racks. Shown here is a pair of Blade Pack 10 units built using Duo Pi mounted in a 19" rack which houses 20 x Raspberry Pi in just 5RU of rack space.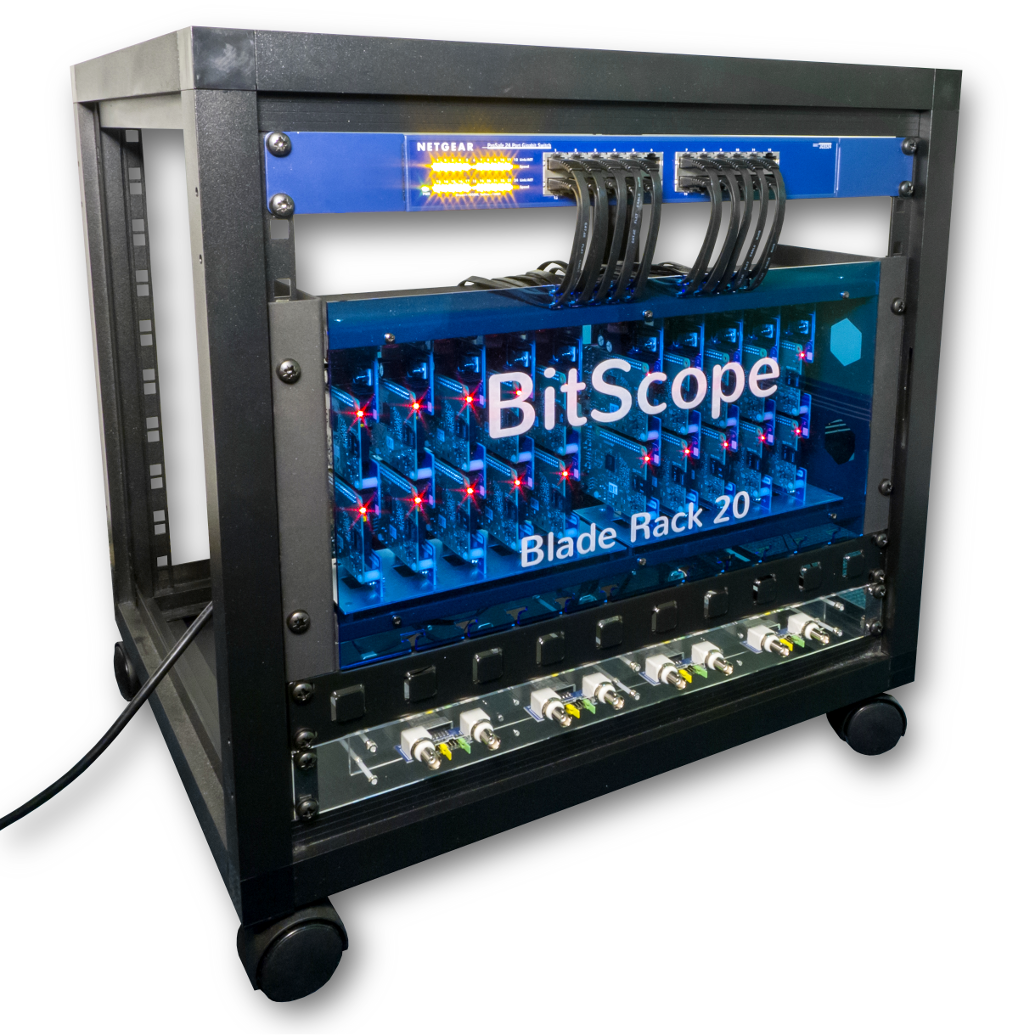 Using Quattro Pi it's possible to do the same thing with two Blade Pack 20 units in 7RU to accomodate up to 40 Raspberry Pi in a single rack.
With the addition of standard network switches it's possible to build arbitrarily large compute clusters with Raspberry Pi at very low cost.
Power is regulated on each blade so the master power source itself does not need to be regulated. It simply needs to provide between 9V and 48V with sufficient current to meet the requirements of the installed Raspberry Pi and associated perpherals.
Using BitScope Blade you can also connect and power many high current USB devices including almost any type of USB hard disk (HDD) or solid-state drive (SSD).
Of course USB powered BitScopes (such as BitScope Micro shown at the bottom of this example Blade Rack 20) other peripherals such as keyboards, mice, WiFi and Bluetooth dongles can all be used. Multipe Blade Rack units can be stacked vertically in 19" rack frames making it possible to build very low cost Cloud Computing systems using the ubiquitous Raspberry Pi !
Wall Mount your Raspberry Pi
It doesn't have to be "big iron" applications like cluster computers or render farms. Another popular use-case for BitScope Blade is to use a single blade to wall mount one or more Raspberry Pi. We tweeted this idea a little while ago and it proved to be quite popular !
In this case we mounted a pair of Raspberry Pi 2 using Duo Pi in a redundant server configuration. We're actually using this in the office to provide DHCP, DNS, WiFi AP and internal Web services. Combined with a low cost 4 port router and 2.5" HDD for storage it offers an unbeatable low power and low cost server solution that never needs to be rebooted.
Raspberry Pi Display and HAT
BitScope Blades can also be used to mount and power the Raspberry Pi Display and in the case of Uno Pi, a HAT.
Here we have Duo Pi being used to mount and power a Raspberry Pi Display connected to a BitScope Mini educational board and next to it, Uno Pi powering another Raspberry Pi and the Sense Hat. Both boards are connected to the office network via WiFi adapters for remote access.