2013-06-01
Chart 1.1 | Mac OS X Mountain Lion Release | DC01G
BitScope Chart now works with the latest Mac OS X as part of our Mountain Lion Update.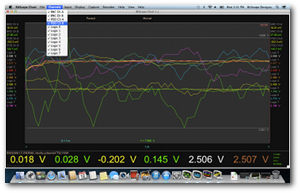 Ths is the first release for Mac OS X.
It is compatible with all current model BitScopes and older models back to 2003. All the features of the Windows and Linux versions are available on Mac OS X including the ability to chart frequency and period on up to 16 channels or voltage statistics on up to 8 channels.
To install simply download the update and drag the app to your Applications folder. As with the other app updates Chart is also faster due the use of the a new link driver so we've updated for Windows and Linux too. The driver is activated by default for Linux and Mac OS X and can be manually enabled via the FTDI device properties for the USB device created by Windows when a USB BitScope is first connected by reducing the USB latency timer setting to 2ms.