BitScope Test & Measurement Workstation
BitScopes have always offered great USB Oscilloscope solutions for PC, Mac or Linux systems. More recently we updated BitScope to work seamlessly with Raspberry Pi and launched the very low cost BitScope Micro tailored specifically for Raspberry Pi owners (although it remains fully compatible with all supported host platforms).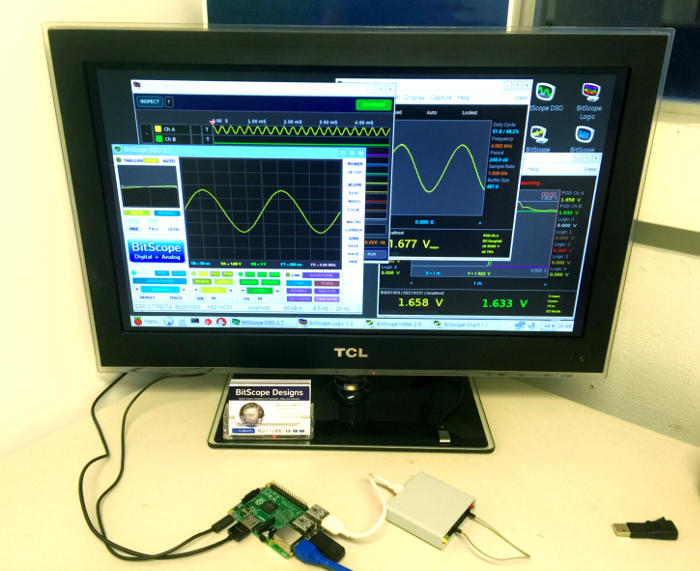 About Raspberry Pi
The core idea was to leverage Raspberry Pi with a keyboard, mouse and monitor to build a BitScope based system for test, measurement & data acquisition.
We wanted it to be low cost, convenient to use and readily available. We started with the original Model B and worked with the Raspberry Pi team to fully optimize the platform to handle real-time display.
This work resulted in a very capable test & measurement platform using Raspberry Pi with the real-time system performance we needed to run our all our key applications.
It worked well with all BitScope models but following the release of the new BitScope Micro with element14 and then the launch of Raspberry Pi 2 earlier this year (which we reviewed) it became clear that if we could eliminate the need for a separate monitor, keyboard and mouse that we'd have the ideal embeddable test, measurement and data acquisition solution.
We had already optimized our software for use with touchscreens so...
...enter the Raspberry Pi 7" Touchscreen Display !
We were very excited yesterday to receive the long awaited Raspberry Pi 7" Touchscreen Display.
With a big thank-you to our friends at element14 we got our hands on one these fantastic little displays the day it was launched and we immediately set about putting it together and testing it. The result is this screencast which Bruce posted yesterday which shows just how easy it is to use.
The Raspberry Pi display home page has all the details and Alex Eames' RasPiTV Videos explain how to set it all up much better than we can. Bruce presented a simplified unboxing and system installation with a twist - he wall mounted the display and powered it all from a 12V battery !
Needless to say, we're impressed with this display. It's taken a while (read the launch page for all the gory details, EMC compliance can be a devil to get right!) but the end result is just what we wanted - a very low cost, high quality touchscreen display from which to make a self contained test, measurement and data acquisition system!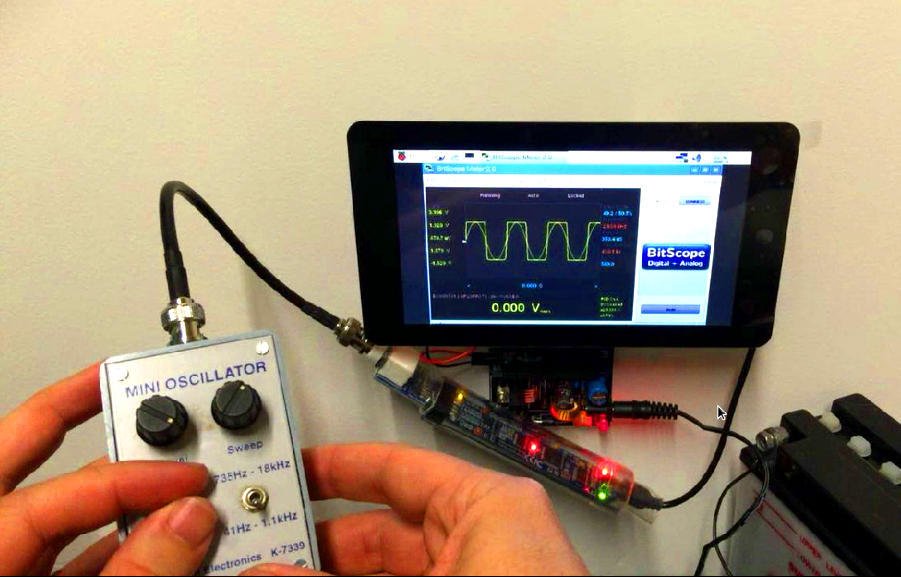 BitScope Blade DuoPi
Our aim went beyond just eliminating the separate monitor, keyboard and mouse; we wanted the solution to be suitable for industrial use and able to be run from any available power source.
Our soon to be released BitScope Blade boards are designed to serve just this purpose; they offer robust power and mounting solutions for Raspberry Pi and BitScope including 19" rack and DIN rail and can accept power sources from 9V to 48V directly and via POE.
One of these products (DuoPi) is perfect for the new Raspberry Pi display as it makes it possible to mount and power the Raspberry Pi, the display and up to four connected BitScopes. It is the board that Bruce used in the video to mount the Raspberry Pi display on the wall.
We'll have full information about DuoPi and the other BitScope Blade boards soon with stock expected in December.
Related Posts
| | | |
| --- | --- | --- |
| | Build a powerful mixed signal workstation with one simple 3D print ! | Sep 3 |
| | Raspberry Pi Zero W, a wireless wonder for only $10 ! | Feb 28 |
| | Physical Computing with BitScope, Blade and Raspberry Pi. | May 27 |
| | Raspberry Pi 3 Launch and BitScope Blade | Feb 29 |
| | Physical Computing with Raspberry Pi and BitScope! | Dec 01 |
| | BitScope, Ozberry & Pimoroni at Sydney Mini Maker Faire! | Aug 12 |
| | Picademy Workshop with Carrie Anne Philbin | Jul 27 |
| | BitScope Blade for Raspberry Pi at Hannover Maker Faire! | Jun 05 |
| | BitScope DSO 2.9 Now Available. | Jun 02 |
| | Getting Started with BitScope | May 08 |
| | BitScope Micro In-Line Data Acquisition | Apr 02 |
| | BitScope Micro & Raspberry Pi in Education at BETT | Jan 21 |
| | BitScope Connection Ports Explained | Dec 19 |
| | BitScope Micro and Oscilloscope Probes | Dec 10 |
| | Raspberry Pi Model A+ or B+ or B+ Slimline? | Nov 14 |
| | Hands on with BitScope Micro at electronica 2014 | Nov 11 |
| | BitScope Micro Video Tutorial with Farnell element14 | Nov 10 |
| | BitScope Micro and Raspberry Pi at electronica 2014! | Nov 06 |
| | BitScope Micro element14 Webinar Review. | Nov 03 |
| | BitScope Micro Webinar with element14! | Oct 29 |
| | element14 launches BitScope Micro for Raspberry Pi! | Oct 27 |
| | BitScope Micro Diagnostic Port Explained. | Aug 16 |
| | MagPi talks Raspberry Pi B+, HATs & BitScope. | Aug 04 |
| | Raspberry Pi B+ BitScope x 4 = 8 analog + 32 logic ! | Aug 01 |
| | BitScope Micro, now available at Pimoroni! | Jun 01 |
| | BitScope Model 10 or BitScope Micro? | Apr 25 |
| | BitScope Micro, what's in the box? | Apr 17 |
| | BitScope Micro Questions & Answers | Apr 12 |
| | BitScope Micro (New Product) for Raspberry Pi! | Apr 11 |
| | BitScope Workshop at OzBerryPi | Apr 8 |
| | BitScope Library V2 API Guide Published | Mar 21 |
| | Optimizing real-time waveform display for Raspberry Pi | Mar 17 |
| | Volume purchase discounts now available online! | Mar 11 |
| | BitScope Documentation Updated Online | Mar 05 |
| | BitScope DSO Version 2.6 Production Release | Mar 03 |
| | Low cost networked data acquisition with Raspberry Pi. | Dec 17 |
| | BitScope Server, shared remote access for any BitScope! | Dec 15 |
| | BitScope DSO updated for Server Compatibility | Dec 14 |
| | Collaborative Solutions, Online & Interactive Education. | Dec 09 |
| | Powerhouse ThinkSpace Digital Learning | Dec 04 |
| | The Sydney Mini Maker Faire Review. | Nov 28 |
| | BitScope Ed at the Sydney Mini Maker Faire! | Nov 20 |
| | BitScope Library V2.0 and Proto Scope Application | Nov 15 |
| | BitScope DSO, Logic, Chart, Meter and Library updated | Nov 12 |
| | Automated Waveform Analysis with Raspberry Pi | Nov 09 |
| | Reducing Quantization Noise with BitScope | Nov 08 |
| | Breadboard One, the 4 Bit Up/Down Counter | Nov 07 |
| | Using a USB BitScope with any Linux system. | Nov 05 |
| | Sydney BitScope, Online Demo Updated. | Oct 30 |
| | BitScope Touch Screen User Interface | Oct 28 |
| | Network access for USB BitScopes via Raspberry Pi. | Oct 24 |
| | BitScope is virtually indestructible, just as we intended! | Oct 23 |
| | BitScope Ed at OzBerryPi, Presentation Review. | Oct 21 |
| | BitScope and friends at OzBerryPi Maker Space | Oct 20 |
| | Vertical Offsets and Dual Channel Display | Oct 19 |
| | How to Install BitScope DSO on Raspberry Pi | Oct 18 |
| | Breadboard One, a typical Mixed Signal Circuit. | Oct 17 |
| | Electronic Projects Lab for Raspberry Pi | Oct 17 |
| | Dual Channel Active Differential Probe (New Product). | Oct 15 |
| | BitScope Smart Port. The clever connection. | Oct 12 |
| | BitScope Ed, an Educational Blog about Electronics. | Oct 09 |
| | Why the oscilloscope update rate is important. | Oct 06 |
| | Visualizing sound with Sonic Pi and BitScope | Oct 05 |
| | BitScope Software Blog Launched | Oct 04 |
| | Differential measurements matter, here's why... | Oct 01 |
| | How to Install Raspbian and BitScope on Raspberry Pi | Sep 29 |
| | BitScope Website Upgrade and Blog Launch | Sep 29 |
| | High speed data acquisition with Raspberry Pi | Sep 25 |
| | BitScope Software for Raspberry Pi Oscilloscope | Sep 27 |
| | BitScope DSO 2.7 update (for Raspberry Pi only) | Sep 24 |
| | BitScope Raspberry Pi Oscilloscope | Sep 20 |
| BitScope | BitScope DSO Tutorial Examples | Sep 09 |
| | | More... |