This product has been superseded.
Dual Channel Mixed Signal Scope & Analyzer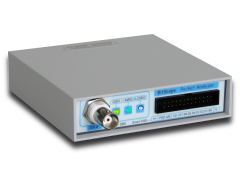 BS50 is a tiny USB powered high performance Mixed Signal Oscilloscope for use with a PC or notebook.
Key features:
70 MHz Analog Bandwidth Scope.
40MS/s Logic Analyzer, 25nS capture.
Dual Channel, 3 inputs (1 x BNC, 2 x POD).
8 logic/timing channels and Smart Port.
Arbitrary Waveform Generator.
Real-Time Spectrum Analyzer.
Mixed Signal Data Recorder.
User Programmable.
BS50 BitScope BS10 combines a dual channel digital storage oscilloscope and 8 channel logic analyzer with an arbitrary waveform generator, real-time spectrum analyzer and data recorder in a highly portable package.
About the same size as a Pocket PC, this USB powered BitScope needs no bulky accessories. It's the perfect "go anywhere" test and debug solution.
Portable Design
BS50 uses a lightweight extruded aluminium case. Its tiny size means it can go where ever you do.
The front panel provides access to all the inputs. The back panel houses the (optional) external 9 VDC power socket and USB connector.
Operation LEDs are located on the front panel to provide live visual feedback of analog capture, waveform generator operation and logic capture. USB data and external power LEDs on the back indicate power and communication status for the scope.
Integrated Software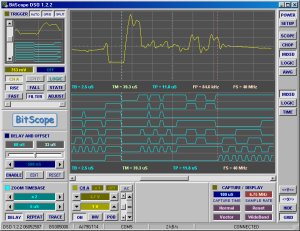 Included with BS50 is BitScope DSO, BitScope Design's powerful test and measurement software application.
When BS50 is powered on, the DSO presents a single channel digital oscilloscope display.
But selecting the POD inputs enables dual channel operation and virtual instrument buttons down the right side of the application allow you to select from an array of other integrated test instruments.
For example, pictured here is the mixed signal instrument displaying one (BNC) analog input and the 8 logic channels. Other instruments include a full speed logic state analyzer and arbitrary waveform generator.
Whether you're looking at waveforms down at audio frequencies or analyzing clock edges at the high speed of microcontroller and digital logic circuits, DSO and BS50 meet the challenge
Analog Probes
BS50 is compatible with industry standard oscilloscope probes.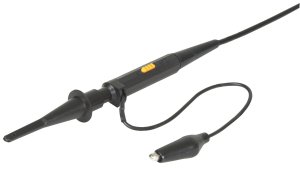 The BitScope PRB-04 (pictured left) is a cost effective choice for general work.
It has switchable x1 and x10 attenuation and 60 MHz bandwidth which is suitable for moderate speed applications.
Other choices are available such as the x1/x10 switchable attednuating PRB-01 for higher bandwidth applications or PRB-02 for high voltage work with its x100 input attenuation, insulated connectors and high input impedance.
Of course if you already have standard scope probes they will work with BS50 which is why probes are optional when buying BitScope.
Logic Probes & Expansion
Like all BitScopes, BS50 has a Smart Port expansion connector on the front panel.
However unlike the other models BS50 does not require use of a logic probe (for 5V work).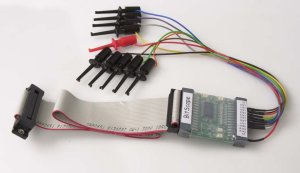 Instead BS50 is supplied with a set of test leads which are connected directly to the connector on the BS50 front panel.
BS50 is so small it is in effect a logic probe.
Of course if you work with TTL or 3.3V CMOS logic you can use LP103W (pictured here) with the BS50 BitScope BS10.
And the POD connector is not just for connecting logic probes. It can also be used for special function and software controlled signal processing modules such as waveform generators, RF convertors and probes.
The key to this capability is the POD connector's 5V power, ground and serial I/O pins. This makes it possible to connect your own circuits to BS50 (if externally powered) with the BitScope providing power, serial control and data capture for your own circuits.
PC Connectivity
BS50 is a PC based test instrument which connects via USB.
USB offers plug and play convenience and is well suited to single desktop or notebook use.
Unique to BS50 in the BitScope range is the fact that it is (optionally) USB bus powered. It does not require an external power adaptor unless you plan to use its 5V power via the front panel.