2014-04-08
BitScope Workshop at OzBerryPi.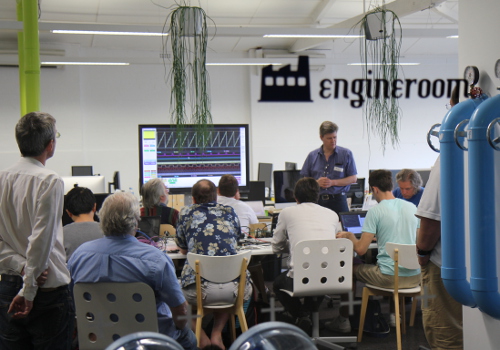 We were delighted to be invited back to engineroom on Sunday to present a BitScope Workshop for OzBerryPi.
A few months ago we presented a seminar on BitScope Ed to explain our thinking about project based learning, especially in the context of online education delivery.
We discussed in general terms about how BitScope can bridge the gap between the online virtual and physical worlds. This time we drilled down into the detail of what this means in practice.
We demonstrated how BitScope can be used for test, measurement and data acquisition and how this can be used in education, especially when learning how to program physical computing environments like Raspberry Pi and Arduino or when working with real electronic circuits and systems.
This is especially relevant in the context of real-world mixed signal systems, sensors, servos, robotics and other elements of physical computing that increasingly pervade modern life. We enjoyed a very receptive audience here at OzBerryPi because for many who attended, this is precisely the environment in which they work!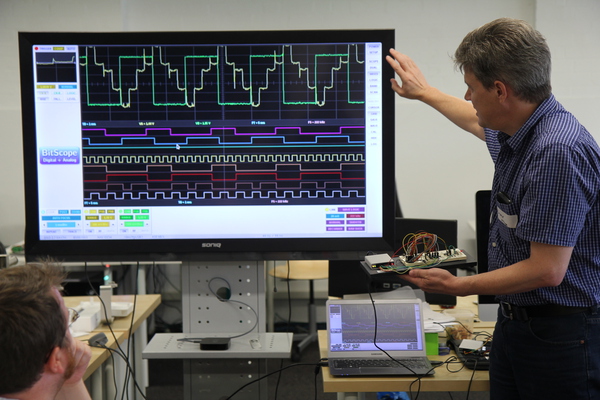 Physical Computing
Bruce provided a live demonstration of Breadboard One, fully powered, controlled and monitored by a USB connected BitScope Mini. This was to demonstrate how a mixed signal physical computing lab can be built with just some low cost electronics.
Throw in a Rasberry Pi, monitor and keyboard and he explained how easy it is to build a stand-alone Electronic Projects Lab which is ideal for use in the classroom or to build a network connected mixed signal system.
At one point he powered up BitScope driving a DC brushless fan, all served on the LAN via a Raspberry Pi and we watched as members of the audience connected remotely from their PCs and Macs to make some measurements.
Programming Skills
We believe a fundmentally important skill for students to learn these days is how to code. We've presented our ideas on this before in general terms as part of a teacher professional development course (slides).
However, in this workshop Bruce explained with live examples how coding skills for physical computing can be developed with BitScope.
BitScope is based on a simple but powerful virtual machine which can be programmed directly using simple command scripts to perform any of its supported functions immediately and in real-time. It's effectively a fully programmable analysis and synthesis system which can be programmed directly via a USB serial port without the need for special APIs or libraries. Bruce typed in some examples to show just how easy it is to get started.
From a coding perspective BitScope is an ideal tool to learn how to program and analyze the physical world.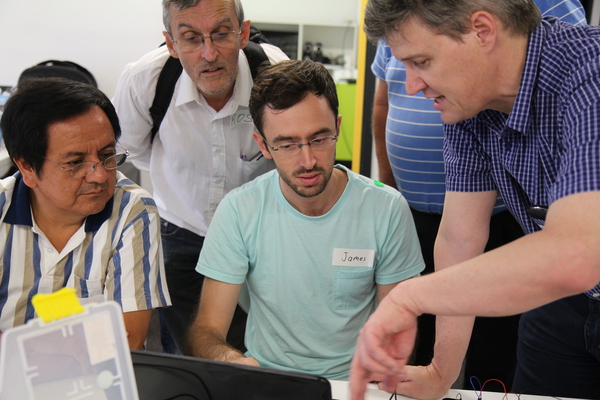 Practical Workshop
We're firm believers in learning by doing so for the rest of the workshop we encouraged everyone to connect up a BitScope to whatever projects they were working on and try it. To help things along we donated another three BitScopes to the group and we were on hand to help explain and demonstrate how to "do stuff".
We were very impressed with the skills and project ideas people were working on. It seems we were talking to the right audience because the questions and ideas we received around embedded and mixed signal systems showed a high level of interest and engagment with physical computing and STEM education. It's confirmed our view that makers can make good teachers and has convinced us that the time is right for reform in school education. More than ever we believe physical computing, coding skills and a renewed focus on science and technology in education is long overdue!
Related Posts
| | | |
| --- | --- | --- |
| | Build a powerful mixed signal workstation with one simple 3D print ! | Sep 3 |
| | Raspberry Pi 3 Launch and BitScope Blade | Feb 29 |
| | Physical Computing with Raspberry Pi and BitScope! | Dec 03 |
| | BitScope, Ozberry & Pimoroni at Sydney Mini Maker Faire! | Aug 12 |
| | Picademy Workshop with Carrie Anne Philbin | Jul 27 |
| | BitScope Blade for Raspberry Pi at Hannover Maker Faire! | Jun 05 |
| | BitScope DSO 2.9 Now Available. | Jun 02 |
| | Getting Started with BitScope | May 08 |
| | BitScope Micro In-Line Data Acquisition | Apr 02 |
| | Bootstrapping Raspberry Pi 2 for BitScope | Feb 05 |
| | Raspberry Pi 2 and BitScope Performance | Feb 02 |
| | BitScope Micro & Raspberry Pi in Education at BETT | Jan 21 |
| | Raspberry Pi Model A+ or B+ or B+ Slimline? | Nov 14 |
| | Electronic Measurement with BitScope & Raspberry Pi | Nov 12 |
| | BitScope Micro Video Tutorial with Farnell element14 | Nov 10 |
| | MagPi talks Raspberry Pi B+, HATs & BitScope. | Aug 04 |
| | Raspberry Pi B+ BitScope x 4 = 8 analog + 32 logic ! | Aug 01 |
| | BitScope Library V2 API Guide Published | Mar 21 |
| | Optimizing real-time waveform display for Raspberry Pi | Mar 17 |
| | Volume purchase discounts now available online! | Mar 11 |
| | BitScope Documentation Updated Online | Mar 05 |
| | BitScope DSO Version 2.6 Production Release | Mar 03 |
| | Low cost networked data acquisition with Raspberry Pi. | Dec 17 |
| | BitScope Server, shared remote access for any BitScope! | Dec 15 |
| | BitScope DSO updated for Server Compatibility | Dec 14 |
| | Collaborative Solutions, Online & Interactive Education. | Dec 09 |
| | Powerhouse ThinkSpace Digital Learning | Dec 04 |
| | The Sydney Mini Maker Faire Review. | Nov 28 |
| | BitScope Ed at the Sydney Mini Maker Faire! | Nov 20 |
| | BitScope Library V2.0 and Proto Scope Application | Nov 15 |
| | BitScope DSO, Logic, Chart, Meter and Library updated | Nov 12 |
| | Automated Waveform Analysis with Raspberry Pi | Nov 09 |
| | Reducing Quantization Noise with BitScope | Nov 08 |
| | Breadboard One, the 4 Bit Up/Down Counter | Nov 07 |
| | Using a USB BitScope with any Linux system. | Nov 05 |
| | Sydney BitScope, Online Demo Updated. | Oct 30 |
| | BitScope Touch Screen User Interface | Oct 28 |
| | Network access for USB BitScopes via Raspberry Pi. | Oct 24 |
| | BitScope is virtually indestructible, just as we intended! | Oct 23 |
| | BitScope Ed at OzBerryPi, Presentation Review. | Oct 21 |
| | BitScope and friends at OzBerryPi Maker Space | Oct 20 |
| | Vertical Offsets and Dual Channel Display | Oct 19 |
| | How to Install BitScope DSO on Raspberry Pi | Oct 18 |
| | Breadboard One, a typical Mixed Signal Circuit. | Oct 17 |
| | Electronic Projects Lab for Raspberry Pi | Oct 17 |
| | Dual Channel Active Differential Probe (New Product). | Oct 15 |
| | BitScope Smart Port. The clever connection. | Oct 12 |
| | BitScope Ed, an Educational Blog about Electronics. | Oct 09 |
| | Why the oscilloscope update rate is important. | Oct 06 |
| | Visualizing sound with Sonic Pi and BitScope | Oct 05 |
| | BitScope Software Blog Launched | Oct 04 |
| | Differential measurements matter, here's why... | Oct 01 |
| | How to Install Raspbian and BitScope on Raspberry Pi | Sep 29 |
| | BitScope Website Upgrade and Blog Launch | Sep 29 |
| | High speed data acquisition with Raspberry Pi | Sep 25 |
| | BitScope Software for Raspberry Pi Oscilloscope | Sep 27 |
| | BitScope DSO 2.7 update (for Raspberry Pi only) | Sep 24 |
| | BitScope Raspberry Pi Oscilloscope | Sep 20 |
| BitScope | BitScope DSO Tutorial Examples | Sep 09 |
| | | More... |